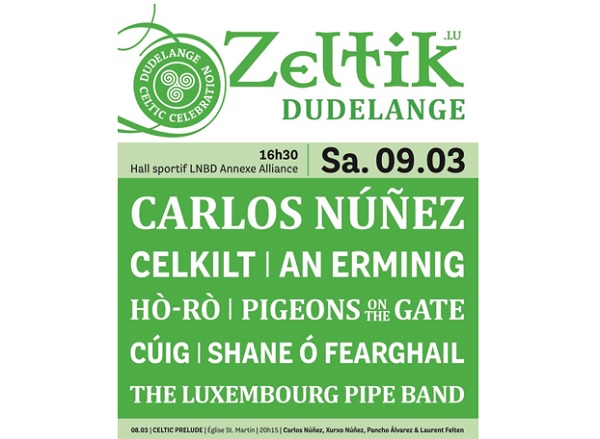 The Zeltik festival will celebrate its 22nd anniversary this year, with an evening of Celtic music announced for Saturday 9 March 2019 in Dudelange, from 18:45 (doors open 18:00) at the Sporthalle LNBD (Lycée Nic Biever) Annexe Alliance.
Carlos NUNEZ, international bagpiper, is returning to headline the festival concert, with the following also performing:
- Celkilt: festive and energetic music, with the energy of rock and the ardour of Irish jigs
- An Ermining: traditional ballads and songs straight out of Brittany
- Ho-Ro: a 6-piece band performing Scottish trad music from the highlands
- Pigeons on the Gate: highly energetic Celtic groove-pop from Switzerland
- Cuig: progressive young Irish quintet adding a twist to tradition
- Shane O'Fearghail: an Irish singer-songwriter from Dublin, based in Vienna, performing Irish Indie Folk
- The Luxembourg Pipe Band: bagpipes, beating drums & typical highland tunes
Tickets (price €20 pre-sale; €25 at the door) available from www.luxembourg-ticket.lu and other outlets.
On Friday evening at 20:15, the Eglise St Martin in Dudelange will be the venue of the traditional "Celtic Recital" organ recital.
See www.zeltik.lu for further details.