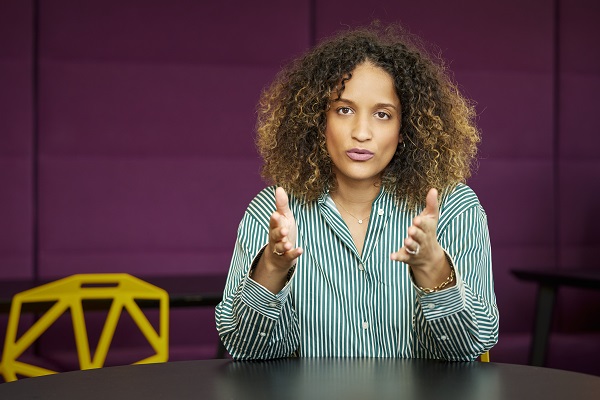 Alicia Brun, Country Manager of Up Luxembourg;
Chronicle.lu recently had the opportunity to speak with Alicia Brun, Country Manager of Up Luxembourg, to learn more about its digital meal voucher service.
This article forms part of a series of interviews with "newcomers" hosted at the Luxembourg House of Financial Technology (LHoFT), i.e. startups having joined the LHoFT since 1 January 2022. Up Luxembourg has been present at the LHoFT since May 2023.
Chronicle.lu: Please introduce your company and the products/services it offers.
Alicia Brun: Up Luxembourg is an issuer of meal vouchers, available and usable on a card. Its products and services are also accessible via its online platform and mobile application. Up Luxembourg offers the best quality/price ratio on the market, in addition to top-quality customer service and 100% automated management. We enable employees to increase their salary by €140 net/month, while saving employers 40% on an equivalent salary by being 100% exempt from social security charges.
Chronicle.lu: What led to the creation of your company?
Alicia Brun: In 2011, the then Belgian Minister for the Economy signed for the launch of dematerialised meal vouchers. That's what drove Jean-Louis Van Houwe, whose ambition was to revolutionise meal voucher transactions, to found Monizze as Belgium's first 100% electronic meal voucher payment system. In 2015, Monizze was acquired by the cooperative and participative French Up group. Building in the success and roots of Monizze, we launched Up Luxembourg.
Chronicle.lu: Why Luxembourg?
Alicia Brun: As in Belgium in 2011, the Luxembourg meal voucher market is not very competitive and has historically been paper-based. We are proud to launch Up Luxembourg to revitalise meal vouchers solutions, in the wake of the announced reform of meal vouchers (digitisation). This new legal framework will fuel innovation and open up the market, bringing more services and benefits to users. Our aim is to offer an ever more effective, advantageous, simple, secure and innovative solution. At the heart of our solution, our R&D team is key, and we work to respond immediately to our customers and improve our solution on a daily basis.
Chronicle.lu: What makes your company and its offer unique?
Alicia Brun: Up Luxembourg is more than a service, more than a product, it's a 360° tool simplifying the life of your company and your employees, with purchasing power at the heart of our mission. Our corporate culture is based on innovation. The company was the first in Belgium to offer a 100% digital service and use of meal vouchers. Digitalisation remains anchored in our DNA; we innovate, adapt and improve quickly. A pioneer in payment simplicity, we're constantly reinventing ourselves and creating new features to make life easier for our users. In Belgium, the Belgian fintech collaborates with Payconiq by Bancontact and a loyalty system, enabling its users to make cardless payments directly via the app on their smartphone, while accumulating loyalty points. On top of that, we have responsive, customer-oriented service (answering your call and within three rings, someone answers); online tools for a 100% automated management; and simple, transparent pricing.
Chronicle.lu: What is next for your company?
Alicia Brun: We're launching our beta phase. All employers, CEOs, self-employed directors, HR people who would like to test an innovative solution and support the fine-tuning of our Luxembourg solution are more than welcome! All feedback, needs, local specifities or suggestions to provide the best-in-class digital solution will be seriously considered and taken into account.