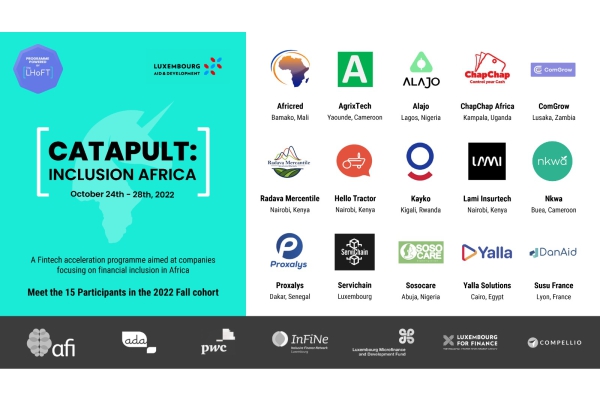 Credit: LHoFT
The Luxembourg House of Financial Technology (LHoFT) has announced the list of fifteen Fintech firms selected from over 400 applications for the 2022 edition of "CATAPULT: Inclusion Africa".
The selected firms will take part in the fifth edition of the LHoFT's startup acceleration programme focused on financial inclusion taking place from Monday 24 to Friday 28 October 2022.
The programme, developed by the LHoFT Foundation and sponsored by Luxembourg's Ministry of Foreign and European Affairs – Directorate for Development and Humanitarian Affairs, targets companies focusing on financial inclusion in Africa and aiming to build bridges with Luxembourg's microfinance and broader finance industry while highlighting their initiatives in alignment with the sustainability goals of Luxembourg's finance centre.
The LHoFT team will be joined by Ada, Infine, Luxembourg for Finance, the Alliance for Financial Inclusion (AFI), the European Investment Bank (EIB), the Luxembourg Microfinance and Development Fund, Bamboo Capital Group, Double Feather Partners, SPTF, LuxDev, the Business Partnership Facility, ACRC and Compelio, amongst others, who will be working with the cohort throughout the programme.
CATAPULT: Inclusion Africa provides a tailor-made programme with intensive mentoring, coaching, peer to peer learning and dedicated workshops for the selected Fintech startups. The programme will include sessions on business model mapping, investment readiness, funding and capital raising, social impact, scaling strategy, building teams, operational management, advisory meetings with investors and pitch development. Several alumni of previous year's programmes will travel to Luxembourg to share their experiences, delivering educational sessions and mentoring to the 2022 cohort.
In addition, for this year, the selected firms will actively participate in the Arch Summit on 26 and 27 October 2022. The organisers, Tomorrow Street (Vodafone), have centered the Arch Summit's programme around three core themes: Digital Society – connecting people, communities and things for a smarter digital lifestyle; Inclusion – enabling an accessible digital future for all; Planet – reducing environmental impact and achieving a sustainable future.
The fifteen Fintech startups selected to take part in the 2022 edition of CATAPULT: Inclusion Africa are:
AFRICRED from Bamako, Mali
AgrixTech from Yaounde, Cameroon
Alajo from Lagos, Nigeria
ChapChap Africa from Kampala, Uganda
ComGrow from Lusaka, Zambia
Radava Mercentile from Nairobi, Kenya
Hello Tractor from Nairobi, Kenya
Kayko from Kigali, Rwanda
Lami Insurtech from Nairobi, Kenya
Nkwa from Buea, Cameroon
Proxalys from Dakar, Senegal
Servichain from Luxembourg, Luxembourg
Sosocare from Abuja, Nigeria
Yalla Solutions from Cairo, Egypt
Susu France from Lyon, France.