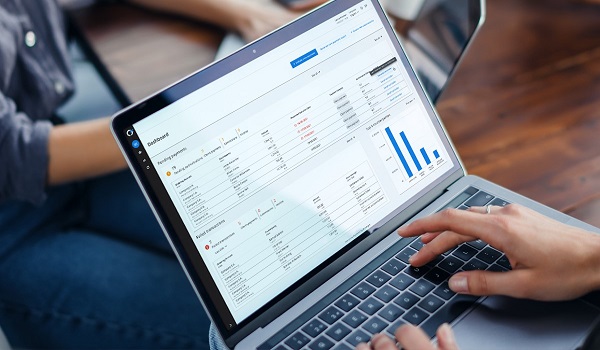 Credit: Finologee
Luxembourg-based FinTech and RegTech specialist Finologee has announced the launch of its new professional payments platform, ENPAY.
A thorough analysis of market requirements led to the conclusion that most products available in today's market only partially cover the feature range many companies are looking for, such as worldwide multi-bank account connectivity without boundaries, modern API endpoints for their in-house accounting or ERP system connection and well-designed web interfaces reducing human error and increasing efficiency.
With the growing list of regulatory compliance requirements, businesses are also looking for a product that includes specific features adjustable to their needs, such as risk management and analysis, industry-specific reporting, treasury optimisation and anti-money laundering tools.
Finologee kicked off the development of its Enterprise Payments (ENPAY) platform last year to meet this market demand. Leveraging its fintech product design expertise and building up on the high-performance infrastructure it operates, the digital finance specialist has developed a modern and secure professional bank connectivity platform.
The initial product requirements definition was done alongside the requirements of Crédit Agricole Life Insurance Europe (CALIE), one of Luxembourg's leading life insurance companies. CALIE is also the first client / end-user to integrate Finologee's ENPAY platform. The long-term goal of the platform is to build a mutualised and neutral professional payments infrastructure in a hosted Software-as-a-Service (SaaS) setup. This design enables financial industry and institutional players to enhance their payment processes without requiring any specific software deployment on their own IT infrastructure and to be flexible for their selection of authentication and signature mechanisms. For payment network and messaging connectivity with banks, Finologee chose to implement direct access to SWIFT, the world's leading provider of secure financial messaging services. User authentication and manual transaction signature components are provided in partnership with Luxtrust.
When designing the product architecture and roadmap, Finologee relied on its know-how with this type of project stemming from the other digital platforms the company and its founders have been involved in over the last fifteen years in Luxembourg: Mpulse, the country's central SMS payments and routing infrastructure, and Digicash, the mobile payment product of the Grand-Duchy's retail banks. Today, Finologee is a technical provider for operations of both platforms. The company also addresses the needs of dozens of banks, insurance companies and other financial industry players as a central gateway for know your customer (KYC) and bank compliance products. It holds a Luxembourg "Support PFS" licence granted by the Minister of Finance in January 2019 and was ISO 27001-certified last year.
After evaluating co-financing options with the help of Luxinnovation, Luxembourg's innovation support and promotion agency, the Luxembourg government and Finologee signed a joint funding agreement covering the years 2020-2023, supporting the process and organisational innovation goals of this project which has the potential to make a significant impact in Luxembourg's bank connectivity infrastructure.
Franz Fayot, Luxembourg's Minister of the Economy, commented: "Luxembourg is the perfect breeding ground for digital products addressing the needs of financial industry professionals. The country is well positioned to trigger projects that combine regulatory, communications, financial and technological aspects. The Luxembourg government's unique set of research, development and innovation programmes and the encompassing ecosystem provide the right toolset to support digital innovation projects efficiently. Projects led by fintech companies such as the Finologee ENPAY platform and boosting their relationship with established businesses effectively demonstrate how cooperation cannot only solve current business challenges but also reshape existing technical setups to be ready for tomorrow's challenges".
Pierre Gramegna, Minister of Finance, added: "I salute the Enterprise Payment initiative ENPAY, which is another successful illustration of the potential of cooperation between a traditional player like Credit Agricole Life Insurance Europe and a new FinTech like Finologee. By providing innovative financial solutions that benefit all actors, such collaborations strengthen our ecosystem and thus fully reflect the philosophy and vision that lies behind the LHoFT (Luxembourg House of Financial Technologies)".
Raoul Mulheims, CEO of Finologee, concluded: "We firmly believe that our Enterprise Payments platform can be the missing link many financial service professionals and institutional players are looking for to automate their payment processes and reduce risks. From the start, the project received strong support from partners and stakeholders. We would like to thank them for their contributions and encouragements, as well as our team for its commitment and its expertise. We are eager to quickly build up this new product and we are looking forward to establishing the foundations to a new ecosystem that has the potential to have a genuine positive impact for many businesses in Luxembourg".
Through its SWIFT network connection, the ENPAY product bank account connectivity reach will continuously increase over the next months. Accounts with a first set of banks are already connected, currently covering Indosuez Wealth Management, CACEIS, ING Luxembourg, Spuerkeess and BGL BNP Paribas. Additional banks will be connected over the coming weeks.