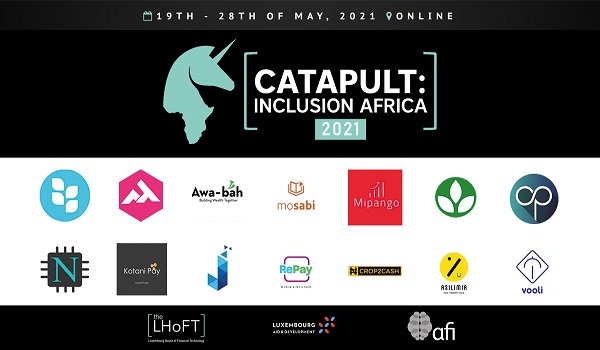 Luxembourg's dedicated fintech centre, the LHoFT Foundation, has unveiled the fourteen fintech startups selected to take part in the 2021 digital edition of "CATAPULT: Inclusion Africa: A digital investment readiness bootcamp, for inclusive African fintechs".
Building on the success of the 2018 and 2020 editions of CATAPULT: Inclusion Africa, the LHoFT Foundation is launching on Wednesday the third edition of this unique programme of fintech startup development. The programme will close on 27 May 2021 with a final digital pitching event, open to the public in front of a top-notch jury, investors and audience members. Special guest Kosta Peric, Deputy Director for the Financial Services for the Poor initiative at the Bill & Melinda Gates Foundation, will give an opening talk.
Developed by the LHoFT Foundation, the CATAPULT: Inclusion Africa programme targets companies focused on financial inclusion in Africa, aiming to build bridges between Africa and Europe, highlighting their initiatives and which are very much aligned with the sustainability goals of Luxembourg's financial centre. In keeping with the times, and in line with public health guidelines, this edition will be entirely digital.
CATAPULT: Inclusion Africa is sponsored by the Directorate for Development and Humanitarian Affairs of Luxembourg's Ministry of Foreign and European Affairs and supported by the Alliance for Financial Inclusion as well as key strategic partners such as ADA, InFine, the University of Luxembourg, LuxFlag, Innpact, LuxAfrica, ACRC, MicroInsurance Network, KAP Innovation in Frontier Markets, LMDF, SPTF, UABA, UN University Center for Policy Research, the European Investment Bank (EIB) and Compellio.
Focusing this year on investment readiness, the fourteen ventures will be supported by investors operating in Africa such as Bamboo Partners, TLG Capital, ZedCrest Capital, Rising Tide Africa, Outlierz, Angaza Capital, Anza Capital, Baobab Group, Beyond Capital, Advans, CRE VC, DRK Foundation, AfricInvest, Triodos Capital and Sherpa Africa Partners, among others.
The programme will once again leverage Luxembourg's inclusive finance and fintech ecosystems, as well as LHoFT partners, to support the selected firms in developing their businesses and achieving their inclusion goals, creating synergies between them, partners, sponsors, investors, microfinance institutions (MFI) and public financial institutions (PFIs).
CATAPULT: Inclusion Africa will provide a tailor-made programme with intensive mentoring, coaching, peer-to-peer learning and dedicated workshops for the selected fintech startups. The programme will include sessions on business model mapping, investment readiness, funding and capital raising, social impact, scaling strategy, building teams, operational management and pitch development. The 2018 and 2020 Catapult Alumni will join the new cohort, delivering sessions and providing mentorship, thus leveraging their own experience from the ground.
Franz Fayot, Luxembourg's Minister of the Economy and Minister for Development Cooperation and Humanitarian Affairs, commented: "Innovative fintech solutions have the potential to lead to an improved accessibility of inclusive financial services, especially in isolated areas and to reduce costs for clients of financial service providers. Digitalisation can at the same time simplify the access to knowledge, education, and the labour market, as well as improve communication. The Luxembourgish civil society and private sectors have developed a wide array of expertise in microfinance and in Fintech, which can, through Catapult, be put at the benefit of young fintech entrepreneurs in Africa".
Nasir Zubairi, CEO of LHoFT, added: "It is very exciting to see such incredible firms engaging with the Catapult: Inclusion Africa programme. We are humbled to have received such strong interest to be part of the bootcamp from firms tackling the key issue of inclusion and also to see the enthusiasm from the domestic and international ecosystem, including alumni of the bootcamp, to be part of this initiative and make a positive impact".
To attend the final digital pitching event on 27 May 2021 (starting at 17:00), register via Zoom at us02web.zoom.us/meeting/register/tZwucOCrrjIqH9bvPAeD9CLUWd4HHs880rHD.
Selected fintech startups:
Emata (Kampala, Uganda). Founded in March 2020, Emata is disrupting the $65 billion agricultural financing opportunity in Africa. The company digitalises farmers' cooperatives and gives farmers access to digital and affordable financial products.
Moja Bank (Abidjan, Ivory Coast). Founded in January 2019, Moja Bank provides a digital payment application and a contactless card which is used by consumers to facilitate everyday payment in emerging markets.
AWABAH (Lagos, Nigeria). Founded in January 2021, AWABAH provides access to retirement savings for Africa's unbanked and underbanked population. The startup is improving the customer experience when interacting with pensions by merging financial literacy with easy-to-use technology.
Mosabi (Freetown, Sierra Leone). Founded in May 2018, Mosabi links fintech and edtech with embedded, gamified upskilling for Africa's financial products and platforms. This helps underserved citizens improve decisions and behaviours on their businesses and money.
Mipango (Dar es Salaam, Tanzania). Founded in February 2020, Mipango is a personal finance mobile application that enables users to manage their income, expenses, savings, financial targets, help and offerings.
Igugu Global (Lagos, Nigeria). Founded in August 2019, Igugu Global is accelerating the flow of capital to Africa's $1.5 trillion sustainable infrastructure gap. The startup is trying to solve the problem of fragmentation in financial markets by providing environmental, social and governance (ESG) mapping, structuring and due diligence for green building, transport and energy portfolios.
Chromepay (Tel Aviv, Israel). Founded in July 2017, Chromepay provides merchants and vendors with an affordable way to run all financial aspects of their business without using a bank or point of sale system.
Nokwary Technologies (Accra, Ghana). Founded in February 2019, this startup up focuses on the potential of artificial intelligence in the financial space and its capacity to promote financial inclusion.
Kotani Pay (Nairobi, Kenya). Founded in May 2020, Kotani Pay is a technology stack that enables blockchain protocols, decentralised applications and blockchain fintech companies to integrate seamlessly into local payment channels providing them with a reliable on-ramp and off-ramp service to reach a wider customer base in Africa.
Juakali (Paris, France). Founded in January 2019, Juakali simplifies financial institutions' lives by eliminating paperwork and automating valueless tasks, so that employees can make the most of their time at work and companies boost their productivity.
RePay.Africa (Nairobi, Kenya). Founded June 2020, RePay Africa's API driven platform serves as an electronic alternative to cash, cheques and banks for the un-banked Sub-Saharan Africa.
Crop2Cash (Ibadan, Nigeria). Founded in May 2018, Crop2Cash tools provide agricultural financing with a high level of assurance that it will be efficiently used by farmers.
Asilimia France (Paris, France). Founded in September 2019, Asilimia is an android application that allows informal traders in Africa to create a formal business account within their personal mobile money account. With Asilimia, all their future B2B transactions will be categorised as business transactions even though initiated from their personal mobile money account, saving 90% of their mobile money transaction fees.
Vooli Insurtech (Nairobi, Kenya). Founded in July 2019, Vooli is a client-centric, technology-driven, disruptive insurtech that offers on-demand general insurance through its app and website.