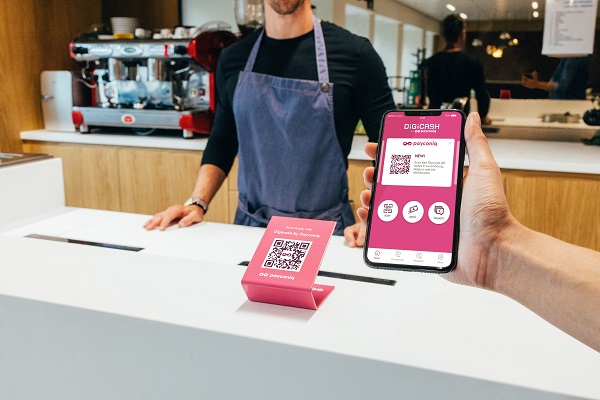 Luxembourg-based fintech Payconiq announced today the launch of cross-border mobile payments in the Benelux countries.
The latest Digicash by Payconiq apps have taken the Luxembourg mobile payments sector to the next level by becoming part of the first interoperable mobile payment platform in Europe.
The new Digicash by Payconiq apps, released in November 2020, have evolved their design to further highlight their association with the Payconiq mobile payment platform. In addition, Luxembourg users are now able to scan Payconiq QR-codes at merchants or on invoices in Belgium and the Netherlands. They can also send money to all Payconiq users, regardless of their country of residence. At the same time, Payconiq users in Belgium and the Netherlands can scan Digicash QR-codes and send money to Luxembourg users.
With Payconiq, merchants in Luxembourg will get access to: Dutch and Belgian Payconiq users, especially cross-border workers; quick and easy digital onboarding; new services; new products. Merchants will be able to accept mobile payments from all the Payconiq-supported solutions: Digicash by Payconiq app, Payconiq by Bancontact app, the Payconiq app or the Payconiq functionality available in the mobile banking apps of KBC and ING.
Guido Vermeent, CEO Payconiq International, commented: "Our role is to enable banks, payment service providers and merchants to offer fast, reliable and innovative payment products to their clients anytime, anywhere. The Payconiq payment platform brings together multiple local solutions and value-added services. Users and businesses in Luxembourg can now benefit from the products and services we developed for the other markets, as well as from the international partnerships we have".
Stijn Van Brussel, COO Payconiq International, added: "We are proud to welcome our Luxembourg users and customers to the Payconiq ecosystem. A new world of possibilities opens for the market leader in Luxembourg, and thus rewards our 160,000 users and hundreds of local businesses for their loyalty and trust. This is also great news for cross-border Belgian workers who are now able to pay Luxembourg insurance invoices, speeding tickets or everyday purchases with their Payconiq-supported apps".
Luxembourg merchants have joined a network of 90,000 merchants and can now accept payments from Payconiq users all over Benelux.