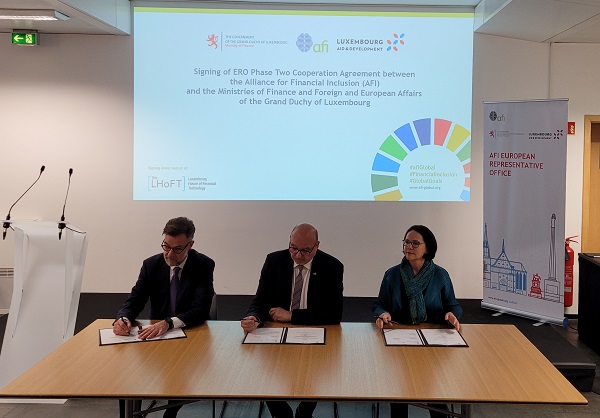 (L-R) Franz Fayot, Luxembourg's Minister for Development Cooperation & Humanitarian Affairs; Dr Alfred Hannig, Executive Director of AFI; Yuriko Backes, Luxembourg's Minister of Finance; Credit: Jazmin Campbell/Chronicle.lu
On Monday 27 March 2023, Luxembourg's Ministry of Finance and the Directorate for Development Cooperation and Humanitarian Affairs of the Ministry of Foreign and European Affairs signed the second phase of their cooperation agreement with the Alliance for Financial Inclusion's (AFI) European Representative Office (ERO).
Luxembourg's Minister of Finance, Yuriko Backes, and the Minister for Development Cooperation and Humanitarian Affairs, Franz Fayot, signed this extension agreement together with Dr Alfred Hannig, Executive Director of AFI, at a ceremony at the Luxembourg House of Financial Technology (LHoFT) in Luxembourg-Bonnevoie.
Ilya Sverdlov, AFI's Global Partnerships and Europe Director, introduced and moderated this "milestone" event, which consisted in the signing of two agreements: the one launching phase two of this cooperation agreement with the ERO and a separate cooperation agreement (between the Ministry of Finance and AFI) to advance the financial inclusion of vulnerable groups in Africa and the Arab Region via the second phase of AFI's Multi-Donor Financial Inclusion Policy Implementation Facility (MD-PIF).
Nasir Zubairi, CEO of LHoFT, said a few words about the successful collaboration between LHoFT and AFI. He noted that it was "only by working together" that we could "address complex challenges today". Various members of the Luxembourg inclusive finance ecosystem, as well as members of the press, were also present.
Minister Fayot praised the way in which the ERO has integrated itself into Luxembourg's inclusive finance ecosystem, "forging many new partnerships", since 2020. He also highlighted its work beyond Luxembourg and mentioned that AFI and the Luxembourg Government have launched a common project to support financial inclusion in Latin America and the Caribbean. He stated: "The Luxembourg Development Cooperation firmly believes that financial inclusion can play a crucial role and can have a catalytic effect on equitable and sustainable development."
Minister Backes expressed her pride at having the ERO in Luxembourg and emphasised its role in facilitating contact with fintech innovators and the University of Luxembourg, among others. She described AFI and its members as a "very important pillar" of the inclusive and sustainable finance community in Luxembourg. She noted that her ministry was happy to be able to continue supporting the ERO's activities, saying: "With this new support, AFI will be able to continue to foster likeminded cooperation with policymakers at European and international level in shared areas of priority such as gender-inclusive finance, inclusive green finance, and digital financial services."
For his part, Dr Alfred Hannig noted that the Luxembourg Government and AFI are "very aligned" and thanked the two ministries for their "generous support". He stressed that this partnership "opens new horizons" for AFI members. He also highlighted the "key role" played by financial inclusion in mitigating crisis and described Luxembourg as an "ideal place" to fully exploit the potential of financial services. He stated: "This cooperation between Luxembourg and AFI testifies to the global convergence around financial inclusion in very concrete terms. Financial inclusion is not just a priority for many emerging and developing countries."
The signing of this Phase 2 (July 2023-June 2026) cooperation agreement will unlock additional support from the Luxembourg Government to advance inclusive and sustainable policies and regulations in Eastern Europe, Central Asia, the Middle East and North Africa.
Since the launch of AFI ERO in Luxembourg in October 2020, this partnership has helped to fill important regulatory knowledge gaps while creating opportunities for insight exchange on converging policy priorities. In the future, the ERO will also incorporate a focus on inclusive green finance.
With the development and implementation of more than 900 financial inclusion policies and regulations worldwide, AFI member institutions have granted some 800 million people access to financial products and services.