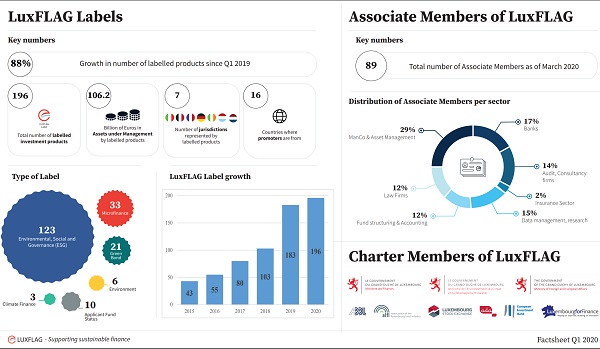 Q1 2020 factsheet; Credit: LuxFLAG
The Luxembourg Finance Labelling Agency (LuxFLAG) announced today that the Assets under Management (AuM) of its labelled investment products have surpassed the €100 billion mark and stand at €106.2 billion, as at 31 March 2020.
To date, LuxFLAG has labelled a total of 196 investment products, including 123 ESG (Environment, Social, and Governance), six Environment, three Climate Finance, 33 Microfinance, 21 Green Bonds and ten Applicant Fund status. These investment products are domiciled in seven jurisdictions (Belgium, France, Germany, Ireland, Italy, Luxembourg and the Netherlands) and are managed in sixteen countries by 84 entities.
Over the last twelve months, the number of LuxFLAG ESG-labelled investment products saw a substantial growth of 167%, reflecting the increasing importance of highlighting the ESG credentials of investment products and a strong growth in sustainable investing.
Furthermore, the total number of LuxFLAG labelled investment products grew by 88% over the past year.

LuxFLAG General Manager Sachin Vankalas commented: "We are pleased to witness the increasing demand for LuxFLAG Labels which is a clear reflection of continuous growth in Sustainable Finance. We believe that the current context around the ongoing epidemic will further sharpen investor focus and pressure on companies in screening ESG factors such as continuity planning, treatment towards employees, supply chain management and overall preparedness for disasters".