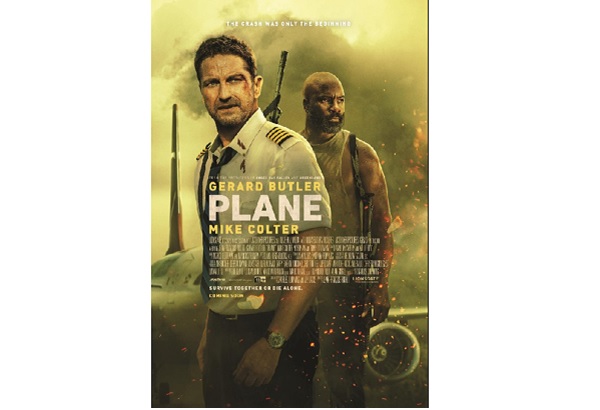 Directed by Jean-François Richet (Assault on Precinct 13 (2005); The Emperor of Paris (2018); Mesrine: Killer Instinct (2008)) and starring Gerard Butler (The Phantom of the Opera (2004); London has Fallen (2016); The Vanishing (2018)), Mike Colter (Men in Black 3 (2012); Extinction (2018); Zero Dark Thirty (2012)), Yoson An (Mulan (2020); The Meg (2018)), Daniella Pineda (Jurassic World: Fallen Kingdom (2018)) and Evan Dane Taylor (West Side Story (2021); Castle Falls (2021)).

Action adventure; 106 mins; 16+

A high-octane, gripping adventure that will have you on the edge of your seat for the entire ride.

Captain Brodie Torrance (Gerard Butler) is a pilot for the Trailblazer airline; today he is working alongside 1st Officer Samuel Dele (Yoson An) and Flight Stewardess Bonnie Lane (Daniella Pineda) on a flight from Singapore to Tokyo, on New Year's Eveve and just fourteen passengers on board. They are instructed to fly their McDonnell Douglas MD-80 aircraft over a tropical storm, not around it - which would have added an hour to the journey time and would have cost many dollars in extra fuel.

Needless to say, the plane encounters severe turbulence and is subsequently force to land, which the captain does so after miracuously finding an island. However, without power, the survivors do not know where they are and have no way of contacting the outside world. They do, however, feel that they have landed in an island group which is inhabited by outlaws and even the Indonesian government refuses to go. Surviving the landing was just the beginning...

Torrance finds himself with felon Louis Gaspare (Mike Colter) who had been caught while on the run from justice and was being transported in handcuffs by the FBI, and together they try to get help... Meanwhile, Datu Junmar (Evan Dane Taylor) and his army of rebels take the remaining passengers and crew hostage and prepare to take them off the island.

The storyline, both the main one and sub-plots, may be fairly predictable, and there are gunfights galore; nevertheless, the tense situation in which the crew and passengers find themselves transposes to the audience as they prepare for a white-knuckle ride. There is limited character development, but this is not what this film offers. Few CGI effects are used; instead, the director relies on action scenes to great effect. Con-Air and other action films involving planes come to mind.

Currently screening at Kinepolis in Luxembourg.