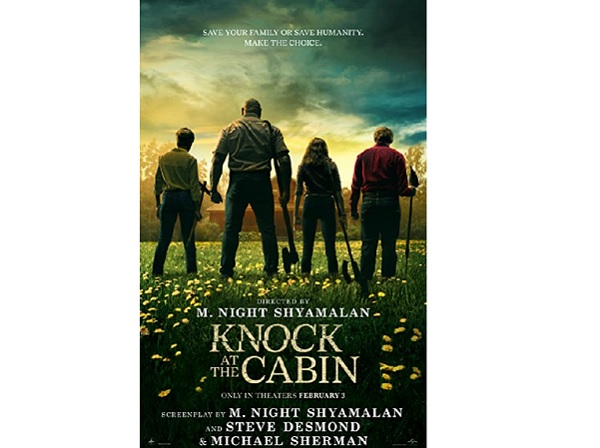 Directed by M Night Shyamalan (Lady in the Water; The Village: The Sixth Sense; Old) and starring Jonathan Groff (The Matrix Resurrections; Hamilton; Frozen II), Ben Aldridge (Pennyworth (TV series); Fleabag (TV series)), Kristen Cui (in her first screen role), Dave Bautista (Guardians of the Galaxy; Blade Runner 2049; Glass Onion; Dune), Rupert Grint (Harry Potter film series; Wild Target; The ABC Murders), Nikki Amuka-Bird (Old; Jupiter Ascending; The Children Act; The Personal History of David Copperfield) and Abby Quinn (Little Women; Radium Girls; Mad About You (TV series)).

Thriller; 100 mins; 16+

Based on the 2018 novel The Cabin at the End of the World by Paul Tremblay, the film is set at a cabin in the woods, Wen (Kristen Cui) is on a supposedly-relaxing break with Daddy Eric (Jonathan Groff) and Daddy Andrew (Ben Aldridge).

They are approached, first by Leonard (Dave Bautista), and soon also by Redmond (Rupert Grint), Sabrina (Nikki Amuka-Bird) and Adriane (Abby Quinn) who try to convince them that they must make an impossible decision that will alter the course of humanity.

The notion sounds crazy but they end up being tied up and taken hostage in a home invasion scenario; however, they are not threatening (well, not really). As their back-stories start to unfold, the audience is asking themselves: are they the four horsemen of the apocalypse, or are they intolerant of same-sex couples? Also, have the four of them done this before? And why this particular cabin, and this particular day?... The questions start to pile up, with just some of them being answered.

The acting is great, there is good chemistry between the characters and, while most scenes happen inside the cabin, the claustrophobic setting adds to the suspense. However, the storytelling could (and should) have focussed a lot more on the four hostage-takers and what brought them together: granted, they do introduce themselves to Eric and Andrew, however, that really are just introductions, not explanations. How much religion (if any - or is it just a moral dilemma) should be read into it? Again, there are many more questions than answers...

While the premise of the film is very interesting, its execution is not the director's most accomplished work; nevertheless, it certainly is not his worst...

Currently being screened at Kinepolis in Luxembourg.