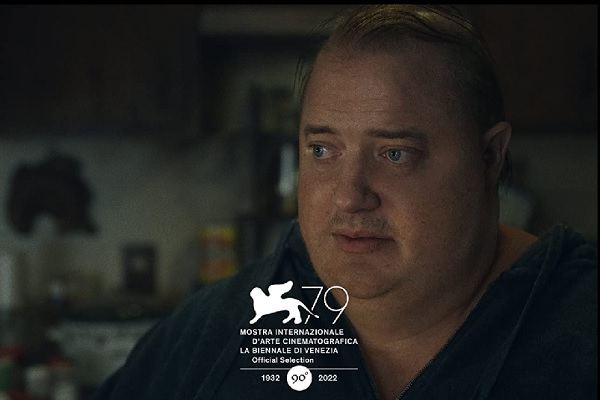 Directed by Darren Aronofsky (Black Swan; The Wrestler; Noah; Mother!) and starring Brendan Fraser (The Mummy; Crash; George of the Jungle), Sadie Sink (The Glass Castle; Eli; Stranger Things (tv series); the Americans (tv series)), Ty Simpkins (Jurassic World; Iron Man 3; Insidious; Avengers: Endgame), Hong Chau (The Menu; Downsizing; American Woman) and Samantha Morton (In America; Save the Cinema; Longford; the Minority Report).

Drama; 117 mins

Charlie (Brendan Fraser) is morbidly obese with severe mobility issues and he teaches English writing online; he lives a reclusive life alone in an apartment and, despite his severe health issues, refuses to go to hospital.

Liz (Hong Chau) checks in on him daily and cares for him. Ellie (Sadie Sink), his estranged teenage daughter, comes to visit and resents that he walked out on her mother Mary (Samantha Morton) and her when she was just eight years old. She expects him to write her school English essays for her, and there is a feeling that all she wants is his money - if he has any, that is. Thomas (Ty Simpkins) enters the scene as a religious missionary, wanting to help Charlie.

Charlie tries to reconnect with Ellie; however, she is strong-willed and her fiery temparment is provoking and confrontational.

Gradually, the audience learns more about each character as their backgrounds are revealed. While the audience feels sorry for Charlie and shares his emotions, his back-story reveals more about his character and explains why he is currently in such a perilous situation. The character development is achieved masterfully, with all the main characters' stories having real impact on Charlie's current situation. Liz's and Thomas' backgrounds, as do Ellie's and Mary's, all interweave with Charlie's and his daily struggles.

With his mastery of the English language, "the whale" not only refers to Charlie's size, but also references Ernest Hemingway's 1951 novel The Old Man and the Sea.

As it is a film adaptation of a stage play, the entire film is set inside the apartment, apart from a couple of brief shots on his veranda. It is a confined space, somewhere from which Charlie cannot escape. The audience sees past Charlie's size and Fraser's prosthetics, instead understand the real person Charlie is. A powerful film, but not overly emotional.

The acting is tremendous, by Brendan Fraser and Hong Chau (who both received Oscar nominations for their roles) and also Sadie Sink; it also received a 3rd Oscar nomination for Best Achievement in Makeup and Hairstyling.

The Luxembourg avant-premier was on 1 February; it will be in cinemas here shortly.