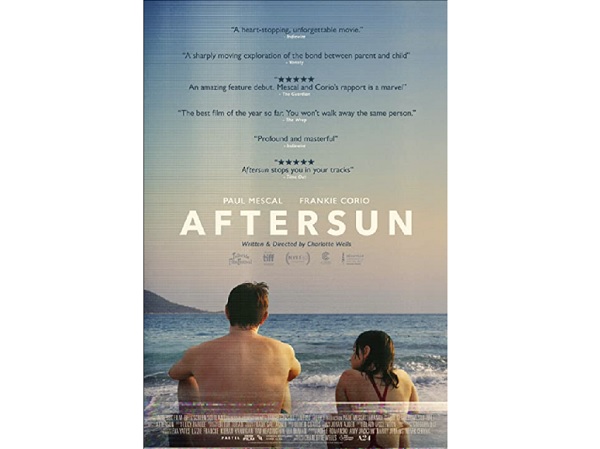 Directed and written by Charlotte Wells (her feature directorial debut) and starring Paul Mescal (The Lost Daughter; God's Creatures; Normal People (tv series)) and Frankie Corio (her acting debut).
Drama; 102 mins;
A melanchaloic and moving, slow-paced drama in which very much close to 100% sees Sophie (Frankie Corio) reminisce about her estranged father Calum (Paul Mescal), specifically during a package holiday to Turkey the two of them shared when she was aged 11.
By that time, Calum was separated from Sophie's mother, but the youngster was enjoying the time she was having with her father. On the surface, everything seemed fine, and both were in good spirits, enjoying each other's company. They lounged by the pool, read, played pool indoors and went on organised day-trips. However, one gets the sensation that something bad is going to happen, just around the corner...
Sophie, although young, seems to understand that her father does not have much money, and therefore should not be promising her things he should know he cannot afford. He is also going through his own tribulations. Others at the same / nearby resort have all-inclusive deals - which include alcohol. Sophie and Calum meet up with a couple of teenagers and play pool together, and Sophie befriends a boy of the same age as her, both enjoying playing arcade games. Calum teaches Sophie self-defence moves too; the tension builds in the background - is there going to be a catastrophic event, or will get get through things together?
One evening, Calum leaves Sophie by the pool while he goes off, tired and despondent... While not much is stated overtly out struggles with one's mental health, and depression, this is one issue that swims just below the surface throughout the film. It is certainly not a depressing film.
Both main characters speak with fairly strong Scottish accents, so the sub-titles (FR, NL) may come in handy, even for anglophones, certainly near the beginning of the film. It portrays a delicate and moving daughter-father relationship, aided by a sensitive soundtrack.
Paul Mescal is nominated in the Best Actor category in the 2023 actors for his role here, along with Austin Butler (Elvis), Colin Farrell (The Banshees of Inisherin), Brendan Fraser (The Whale) and Bill Nighy (Living). Frankie Corio also gives a stellar performance in her first screen role.
This film will come out at Ciné Utopia from next Wednesday