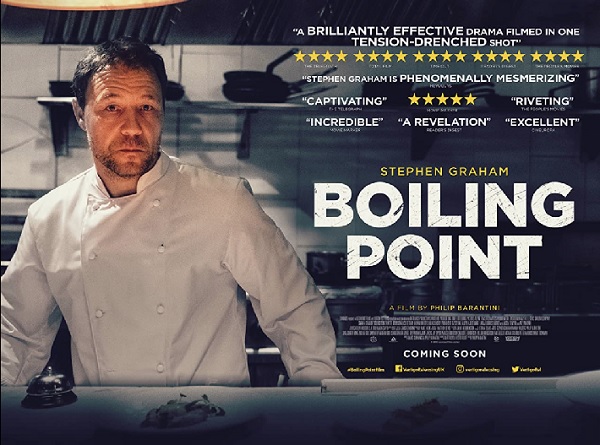 Directed (and co-written) by Philip Barantini (Villain) and starring Stephen Graham (This is England; Tinker Tailor Soldier Spy; Pirates of the Caribbean: Dead Men Tell No Tales; White House Farm (TV Mini Series)), Alice Feetham (Walk Like a Panther; Save Me (TV Series); Bancroft (TV Series)) and Vinette Robinson (Star Wars: Episode IX - The Rise of Skywalker; Sherlock (TV Series); Vera Drake; The Lazarus Project (TV Series)).

Drama; 92 mins; 12+

First screened in Luxembourg at the British & Irish Film Festival Luxembourg (BIFFL) in September 2022 and now on general release in Luxembourg.

Boiling Point follows Andy Jones (Stephen Graham) as the under-pressure chef of a high-end restaurant in London. Boiling Point was filmed in one continuous shot, the third of four takes. It shows how he liaises and communicates with his staff/colleagues, both senior and junior - including Beth (Alice Feetham) and Carly (Vinette Robinson), and customers, some of whom are quite demanding.

At times he is extremely attentive to the minute details addressing the quality of the service the restaurant is delivering; at others, he is distracted by what is happening in his private life as he takes telephone calls as he attempts some degree of fire-fighting. But his demons and personal issues slowly come to the fore as the drama plays out.

Gripping from the first minute to the last. Well, well worth seeing.

After watching Boiling Point, you will firstly be tensed up by the time the film is over due to the relentless pressure under which everyone is working to deliver and, secondly, you will understand the workings behind the scenes a lot more when going out to a restaurant the next time...

Interestingly, Boiling Point started out originally as a short by Philip Barantini; it is currently being made into a TV series to be shown in 2023.

Currently being screened in Luxembourg at Ciné Utopia.