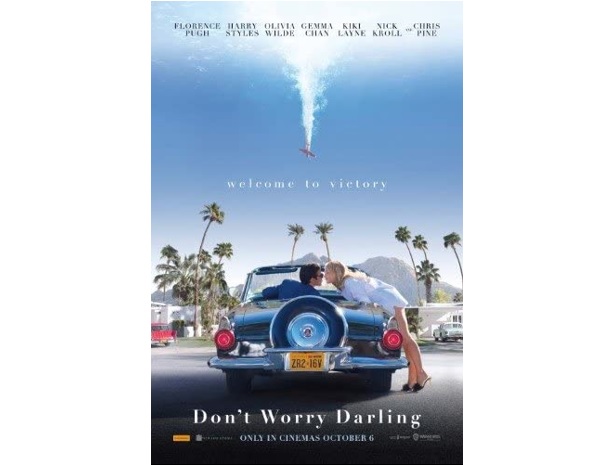 Directed by Olivia Wilde (Booksmart) and starring Florence Pugh (Little Women; Midsommar; Black Widow), Harry Styles (Dunkirk; Eternals), Chris Pine (Star Trek; Wonder Woman; The Contractor; Jack Ryan: Shadow Recruit) and Olivia Wilde (Christmas with the Coopers; The Lazarus Effect; Cowboys & Aliens).
Drama; 123 mins; 12+
In a similar vein as the 1975 (and 2004 remake) "The Stepford Wives", and to a certain extent the 1998 films "Pleasantville" and "The Truman Show", Olivia Wilde's film is set in the 1950s in a utopian experimental community in California. Created by Frank (Chris Pine), the community is inhabited by couples (some with children) who live in Phase I of the "Victory" development in a valley floor that has been turned into an oasis, in single-storey homes that appear to be paradise at first sight.
A shuttle bus drives through the residential community, ferrying the wives to do their shopping, have lunches together and attend dance classes. But is there a hidden, possibly disturbing, secret?
Each morning, with almost robotic-like precision, after cooking their husbands a hearty breakfast and preparing his packed lunch, they see them off to work, each in his own (differently-coloured) car across the desert landscape to an entrance into the mountain where they work (on a top secret project which they cannot discuss with anyone, even their wives). Amongst the rules is one that ensures that all wives must stay within the community and are not allowed out into the desert.
The film focuses on Alice (Florence Pugh) and her husband Jack (Harry Styles) who seem to be enjoying the glamorous lifestyle, with community pool parties at the weekends and so much more. Alice's close friend and neighbour Bunny (Olivia Wilde) is her confidante; however, Alice knows there are some things she cannot discuss, even when she starts to become uneasy in and about certain situations. She starts to have dreams that she cannot understand / interpret, she has hallucinations and she witnesses another wife harming herself, the same wife who had come to Alice looking for help but whom Alice turned away.
Then one day, Alice see an aeroplane flying low and crashing over the hills; she defies the rules and goes off to investigate...
Visually very impressive indeed, yet lacking a decent bite; one is left wondering half-way through about the secrets and what will be revealed - the answer is: very little indeed. It's good fun, but that's it. The acting is good, not great, with good chemistry between Florence Pugh and Harry Styles; together with Chris Pine they deliver moderate performances that never get out of second gear. Unfortunately for them, and for audiences, the script didn't allow the characters to be developed and the storyline falls flat. The film builds intrigue and expectation, but the big reveal is never really delivered.
Currently being screened in Luxembourg at Kinepolis.