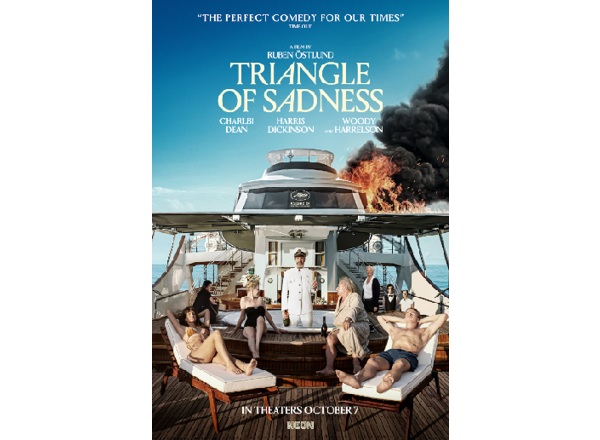 Directed by Ruben Östlund (Force Majeure; The Square; Involuntary) and starring Harris Dickinson (Where the Crawdads Sing; See How They Run; The King's Man), Charlbi Dean (Don't Sleep; Blood in the Water; Spud), Woody Harrelson (Three Billboards Outside Ebbing, Missouri; The People vs. Larry Flynt; The Hunger Games; No Country for Old Men), Zlatko Buric (Pusher; 2012; Mayday) and Vicki Berlin (Anja & Viktor - In Sickness and in Healt; Forsinkelsen (The Delay)).
Comedy drama; 150 mins; 12+
Set in three acts, it starts off with male model Carl (Harris Dickinson) and model / social media influencer Yaya (Charlbi Dean) who become a couple who argue about money (highlighting how difficult it is to talk about money) and are both persistent in not letting the subject drop. They are both jealous of the other talking with others, and a storm is brewing, both literally and figuratively.
Act 2 sees them on board a luxury yacht where their insecurities surface again. As First Officer on board, and responsible for the crew, Paula (Vicki Berlin) tries to coax the alcoholic Captain (Woody Harrelson) out of his cabin. As a result of a series of events, the Captain's Dinner is arranged for a day when a storm is brewing. What happens then is a hilarious sequence including passengers being seasick and another, Dimitry (Zlatko Buric), a fertiliser magnate, together with the captain, taking over the ship's PA system - while seriously drunk. And Oliver Ford Davies plays a British arms dealers to boot.
This scene is where they describe themselves as a Russian capitalist and an American communist/Marxist, which best sums up the phychological undertones of the satirical film. But it is Act 3, after the ship capsizes and the survivors find themselves marooned on an island, when the world order and hierarchy are turned upside down. Expensive watches have no currency there, but being able to light a fire and catch fish are valuable assets. One person's skills means that they are now the king of the new world, having being looked down upon formerly.
A co-production from Sweden, France, United Kingdom, Germany, Turkey and Greece.
Winner of the Plame d'Or at the Cannes Film Festival 2022.
Currently screening at Ciné Utopia.