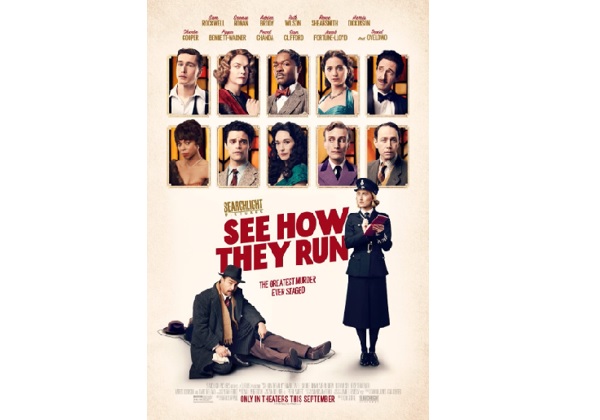 Directed by Tom George (This Country (TV Series); Defending the Guilty (TV Series)) and starring Saoirse Ronan (Lady Bird; Atonement; Brooklyn; The Lovely Bones), Sam Rockwell (Three Billboards Outside Ebbing, Missouri; Vice; Seven Psychopaths), Adrien Brody (The French Dispatch; The Pianist; The Grand Budapest Hotel; Midnight in Paris), Ruth Wilson (Saving Mr Banks; Locke; Anna Karenina; Luther (TV Series)) and Harris Dickinson (Where the Crawdads Sing; The King's Man; County Lines).
Comedy drama; 98 mins; 12+
Set in the 1950s around the 100th performance of Agatha Christie's the Mousetrap in London's West End starring Richard Attenborough (Harris Dickinson), with Leo Kopernick (Adrien Brody) as the film producer who wants to bring it to the big screen. While a number of characters, including Petula Spencer (Ruth Wilson), the stage show's producer, do not want such a film to proceed, others are enthusiastic.
During the after-show party, an argument ensues and Leo Kopernick goes to change clothes and (spoiler alert...) subsequently suffers an early demise.
Enter Inspector Stoppard (Sam Rockwell), a seasoned but weary police officer, and the young, experienced but enthusiastic Constable Stalker (Saoirse Ronan) who try to solve the murder, a whodunit, within the setting of the "glamorously sordid" theatre underground.
Hilarious in places, it is quite quirky, not too far removed from Knives Out and even The Great Budapest Hotel; with a wonderful cast and some great performances.
Fans of Agatha Christie will be delighted with the numerous references to characters in a number of her other books, and another character's name a reference to the playwright who wrote a "play within a play". It's a fun and enjoyable murder mystery that you can watch without taking too much notice of the detail. On the other hand, the detail can be fascinating...
Currently being screened at Kinepolis and Ciné Utopia in Luxembourg.