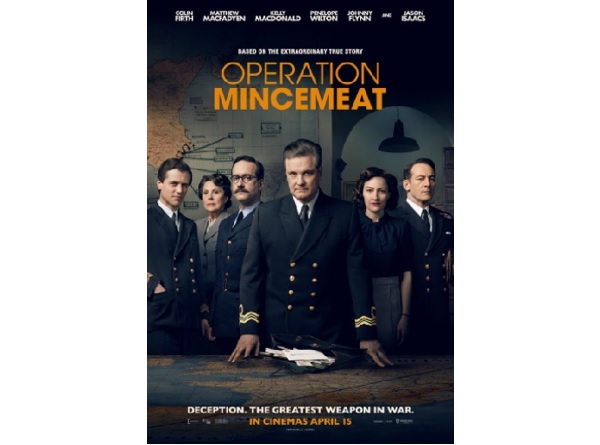 Directed by John Madden (The Best Exotic Marigold Hotel; Captain Corelli's Mandolin; Mrs Brown) and starring Colin Firth (A Single Man; The King's Speech; Kingsman: The Secret Service; Bridget Jones's Diary), Kelly Macdonald (No Country for Old Men; The Hitchhiker's Guide to the Galaxy; Harry Potter and the Deathly Hallows: Part 2), Matthew Macfadyen (The Assistant; The Current War; Anna Karenina; Ripper Street (TV Series)) and Penelope Wilton (The Best Exotic Marigold Hotel; Match Point; Downton Abbey; The Guernsey Literary and Potato Peel Pie Society).
Spy Drama; 128 mins;
Set in early 1933 in London and based on a true story told in the book by Ben McIntrye; during the war effort, many people were employed in secretive work. Ewen Montagu (Colin Firth) could not tell his family that he was really working in subterfuge; being Jewish and afraid of what could happen to them if the Nazis did manage to invade Britain, his wife and children left for safety in the US.
Ewan and Charles Cholmondeley (Matthew Macfadyen) attended a planning meeting concerning the Allied Forces' invasion of Sicily, along with a dozen or so other military representatives, and both pushed strongly for deception techniques to be deployed to trick Germany into thinking they were going to invade Greece instead.
So started a great friendship, only for a senior officer to try to drive them apart. Their project was given the go-ahead, and Hester Leggett (Penelope Wilton) - a work colleague and family friend of Ewen Montagu - provided a calming influence behind the scenes.
They planned to have false documents discovered in a "neutral" country, understand that they would make their way to the Nazi High Command. For this to work, they needed a corpse, which they "acquired". Then they needed a back-story, which they created, with Jean Leslie (Kelly Macdonald) allowing an old photo of herself to be placed on the body as his "girl back home". Her involvement created some tension between the two main male characters...
Funny at times, serious most of the time, the storyline was more complex than many such war dramas - with those in London trying to double-guess their foes - with the characters involved in multiple sub-plots. Great acting throughout, with the characters all different and their personalities complementing their roles. Tense, romantic and funny in equal measure, the film tells a fascinating human story of a plan of deception / remarkable military operation upon which tens of thousands of lives rested, and possible the ultimate outcome of the war. Don't miss Ian Fleming's character and the various nods to James Bond...
Operation Mincemeat will go on general release shortly in Luxembourg at Ciné Utopia.