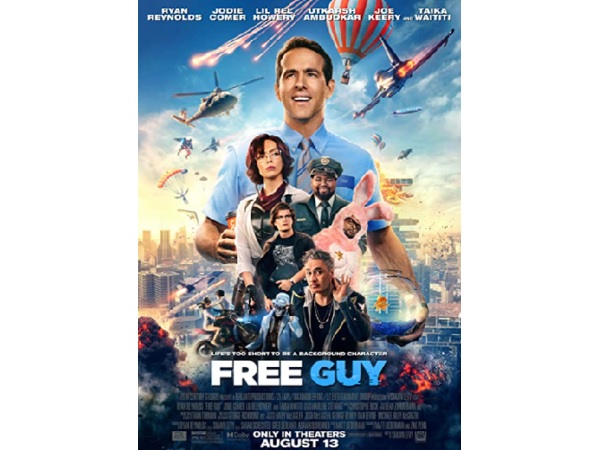 Directed by Shawn Levy (Arrival; Night at the Museum...; The Internship; Cheaper by the Dozen; Stranger Things (TV Series)) and starring Ryan Reynolds (Deadpool; The Croods; The Hitman's Bodyguard; Woman in Gold; Safe House; Green Lantern; X-Men Origins: Wolverine), Jodie Comer (Star Wars: The Rise of Skywalker; Killing Eve (TV Series); Doctor Foster (TV Series)), Joe Keery (Molly's Game; Stranger Things (TV Series)) and Lil Rel Howery (Bird Box; Get Out; Space Jam: A New Legacy; Judas and the Black Messiah; Brittany Runs a Marathon).
Action, comedy; 115 mins; 12+
Partly set inside a video game "Free", Guy (Ryan Reynolds) is an NPC, a Non-Player Character - just like an extra - who is always in the background but whose identity cannot be assumed by a gamer. He goes through the same routine every day - every time the game is rebooted - from washing his teeth, having breakfast and going to work as a bank teller. He even has his own catchphrase "Don't have a good day, have a great day!" and the bank is always robbed. He is friends with the security guard Buddy (Lil Rel Howery) and the two of them chat nonchalantly while the bank is being robbed. But when Guy picks up and puts on a pair of sunglasses, he world changes and he starts to develop feelings...
Outside the game in the real world, one of the gamers is Molotovgirl, aka Millie (Jodie Comer). Guy - who was programmed by Keys (Joe Keery) - falls for Molotovgirl when AI built into the system kicks in. Millie and Keys were the original programmers of the AI and they sold their idea / code to a large gaming company, the boss of which is solely focussed on profits.
As he is about to launch "Free 2", Millie and Keys realise that they have a race against time to recover their original code before it is lost forever. This sets in motion a chain of events that need the help of Guy (inside the game) to recover the code...
A brilliant, fun film that is perfect for a summer when we are exiting the pandemic and are looking for a fun, happy escape from the day-to-date routine. The special effects are just as one would expect in such a video game, with characters and NPCs interacting and explosions, car chases, gun battles and more happening all around.
But it is the concept of not only having an online world as well as the real world, but it is the way that they link and in which the characters interact. It may have echoes of Peter Weir's 1998 film The Truman Show which features a character in a reality TV show, but this is a much more modern tale in a more modern setting. It is very, very funny at times, particularly when the company's boss orders a partially-developed character be released into the game to thwart Guy's quest.
Fantastic family fun.
Currently screening at Kinepolis Luxembourg.