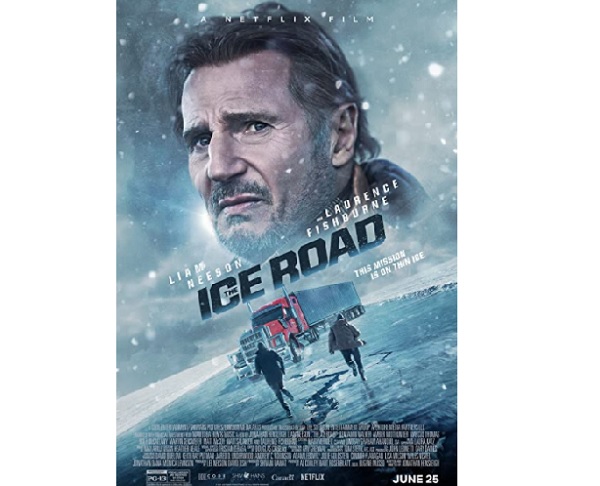 Written and directed by Jonathan Hensleigh (mainly known as writer of Die Hard: With a Vengeance; The Saint; The Punisher; The Adventures of Young Indiana Jones (TV Series)) and starring Liam Neeson (Schindler's List; The Grey; Taken; The Commuter; The Dark Knight Rises; The Chronicles of Narnia), Laurence Fishburne (The Matrix; What's Love Got to Do with It; Mystic River; Batman v Superman: Dawn of Justice; CSI: Crime Scene Investigation (TV Series)), Marcus Thomas (Drowning Mona; Kill the Irishman) and Amber Midthunder (Roswell, New Mexico (TV Series); Legion (TV Series))
Action/Thriller; 109 mins; 12+
Filmed in and around Manitoba, Canada, The Ice Road storyline is based on the premise of a mine collapse in northern Canada and a rescue mission that is dispatched while the clock runs down.
A number of people are killed in the mine and over 20 are trapped below the surface. They can only be rescued when a gas pocket can be capped, but they don't have the equipment: the only way it can get there is by truck overland and across two ice roads (frozen rivers / lakes). Jim Goldenrod (Laurence Fishburne) provides three trucks to travel in convoy and assembles a small team of drivers: apart from himself, there is Tantoo (Amber Midthunder) a young woman driver who has a personal interest in the mission as her brother is trapped, and Mike McCann (Liam Neeson) and his brother Gurty (Marcus Thomas), a Vietnam veteran who is a master mechanic.
Together they set off, just as the ice roads would normally be closed at the end of the winter season, with three rigs. While the thawing ice is the primary danger, it is not the only one as the 30-hour deadline for the miners' survival edges closer...
A thrilling, edge-of-your-seat action film that is just what is needed to take one's mind off the pandemic and other world happenings. While the storyline and plot will not win any awards, it is well done with a mix of established and up-and-coming actors. Plus the scenery and wilds of that Canadian region are a delight on the big screen.
Currently screening at Kinepolis.