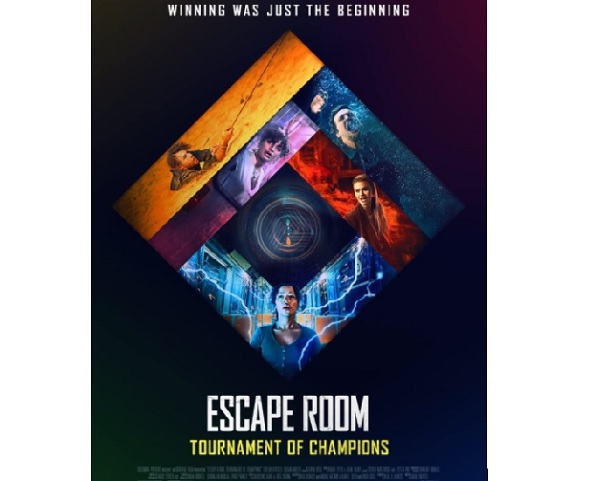 Directed by Adam Robitel (Escape Room; The Taking; Insidious: The Last Key) and starring Taylor Russell (Escape Room; Waves; Bones and All), Logan Miller (Escape Room; Prey; You Can Choose Your Family; Scouts Guide to the Zombie Apocalypse) and Deborah Ann Woll (Escape Room; True Blood (tv series); Daredevil (TV Series); Catch .44).
Thriller; 88 mins; 12+
Also known as Tournament of Champions, Escape Room 2 takes off from where the original film (from 2019) ended, with Zoey (Taylor Russell) and Ben (Logan Miller) planning to go to New York City, to where Zoey has tracked coordinates to an abandoned building, which is where she believes the mysterious Minos corporation is based.
Since her traumatic experience in the first Escape Room film, Zoey has been seeing a therapist to whom she reveals her thoughts and feelings. Is she what she seems, or is she one of them? With suspicion her trademark, Zoey eventually decides against flying, but driving, to New York City, and Ben agrees to accompany her, even though he is broke.
They locate the abandoned building and try to find a way inside; but before they manage to do so, a stranger steals Zoey's locket and they give chase, eventually getting themselves trapped in an underground train, along with five other characters whom they discover are all past "winners" / survivors of the life-and-death Escape Room masterminded by Minos. They start to slowly uncover what they have in common to survive and to understand what is at the heart of the so-called game. Why a train? Why a lighthouse?...
Their adventure has just begun; along the way, they meet up with Amanda (Deborah Ann Woll), who was one of Zoey and Ben's colleagues in the first Escape Room and whom they presumed had died. But all is not what it seems...
While we don't learn much about the new characters, and neither about Zoey's and Ben's, the challenges and situations in which they find themselves are interesting and varied. The plot may not have moved on from that of the first film, but it is still great fun.
A high-octane thriller sequel from a new master of suspense; with a significant increase in budget from the first film (which made a massive profit at the box office), the special effects are bigger and better this time round. Fact-paced and exciting: plus the twists to the plot, which were unexpected.