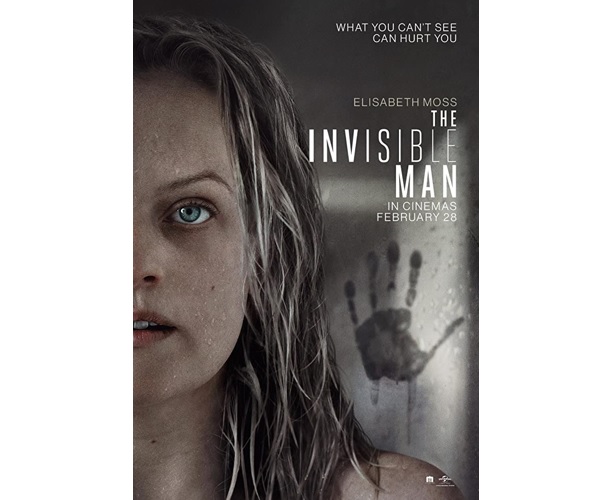 Directed by Leigh Whannell (Insidious: Chapter 3; Upgrade) and starring Elisabeth Moss (The Handmaid's Tale (tv series); Mad Men (tv series); The West Wing (TV Series); The Seagull; The Old Man & The Gun; High-Rise), Oliver Jackson-Cohen (Dracula (TV Series); Mr Selfridge (TV Series); The Haunting of Hill House (TV Series); The Raven), Michael Dorman (Patriot (TV Series); Pirates of the Caribbean: Salazar's Revenge), Aldis Hodge (Straight Outta Compton; Hidden Figures; Jack Reacher: Never Go Back; A Good Day to Die Hard) and Harriet Dyer (The Other Guy (TV Series); No Activity (TV Series); Love Child (TV Series)).
Psychological thriller; 124 mins; 16+
A story set around a tale of domestic abuse. Cecilia Kass (Elisabeth Moss) is married to a successful tech entrepreneur and lives in a modern house overlooking the ocean. The opening scene see her attempt to flee from her home in the middle of the night. She seeks the help of her sister, Emily (Harriet Dyer), who has not realised what had been happening, and goes to stay in the home of a friend, James Lanier (Aldis Hodge), who happens to be a police officer.
She learns that her husband has died and, despite not communicating with anyone - she is terrified to go outside - she is contacted by her brother-in-law
Adrian Griffin (Oliver Jackson-Cohen) who informs her of her inheritance which is conditional.
However, strange things are happening to her and she suspects that her husband, Tom Griffin (Michael Dorman), may not be dead after all...
An intriguing tale brilliantly acted by Elisabeth Moss, with a small support cast, with the storyline reaching an inevitable climax. Along the way, there were many clever uses of sound effects and camera tricks to keep the audience on the edges of their seats. It could have taken place almost anywhere, including the domestic abuse environment which was a very interesting and appropiate setting for this film.
With a relatively small budget of $7 million, most of this must have gone on the special effects.