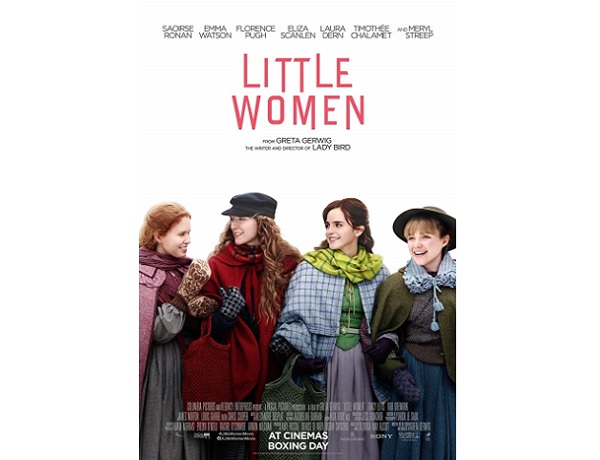 Directed by Greta Gerwig (Lady Bird; Nights and Weekends) and starring Saoirse Ronan (Brooklyn; Atonement; The Lovely Bones; Mary Queen of Scots; Lady Bird; The Grand Budapest Hotel), Emma Watson (Harry Potter...; The Perks of Being a Wallflower; The Colony; Noah; The Bling Ring), Florence Pugh (The Falling; Midsommar; The Commuter), Eliza Scanlen (Babyteeth; Sharp Objects (tv series)) and Laura Dern (Jurassic Park; Blue Velvet; Marriage Story; Cold Pursuit; Star Wars: Episode VIII - The Last Jedi; The Fault in our Stars).
Drama; 135 mins; 6+
Set in the aftermath of the American Civil War, in the late 1860s, and based on the classic novel by Louisa May Alcott, the story follows the fortunes of the four March sisters who grow up with their mother Marmee March (Laura Dern) while their father is away with the army.
They have a nice house in rural New England yet do not have much money. The story is told through the eyes of Jo March (Saoirse Ronan), a writer, who brings the audience on a journey featuring her sisters Meg (Emma Watson), an actor, Amy (Florence Pugh), an artist, and Beth (Eliza Scanlen), a musician.
While the setting, cinematography, costumes and acting are indeed stunning, the film does bounce about considerably from flashbacks to the "present day" when Jo is trying to sell her stories to the male-dominated business of publishing, first short stories and then a novel.
Meanwhile, while Jo consistently insists that she will never get married, certainly Meg and Amy do have designs on marrying well. With Beth frequently ill, Meg falls for the tutor at the "big house" next door and frequently yearns not to be "poor"; meanwhile, Amy lacks confidence as an artist but is destined to marry "into money".
The sisters have normal relationships with one another; their mother has created a loving home and cares for others, often putting them before herself. The sisters have fun together and squabble, as sisters do; ultimately, the family is terribly close-knit and they all look out for each other.
This is a coming-of-age tale set 150 years ago. It may be a wonderfully nostalgic period piece, but many issues still ring true today.
A must-see, with Greta Gerwig again onto a winner.