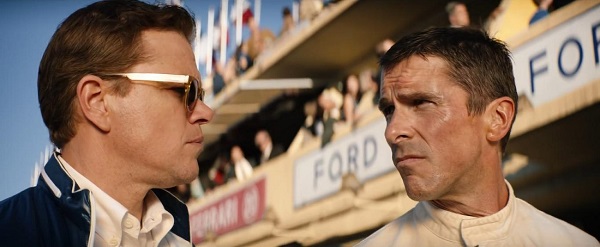 Directed by James Mangold (Logan; Walk the Line; 3:10 to Yuma; Girl, Interrupted; The Wolverine) and starring Christian Bale (The Fighter, American Hustle; The Big Short; Vice; Batman Begins; Captain Corelli's Mandolin), Matt Damon (Good Will Hunting; The Martian; Invictus; Behind the Candelabra; The Talented Mr. Ripley; Saving Private Ryan; The Bourne Identity), Jon Bernthal (The Wolf of Wall Street; Baby Driver; Sicario) and Caitriona Balfe (Now You See Me; Super 8; Escape Plan; Outlander (tv series)).
Sports Action Drama; 152 mins; 12+
An emotional rollercoaster mixed with the thrills and spills of motorsport and racetracks, plus corporate rivalry and personality clashes, as well as a family life - all the ingredients for one of the best films in its class.
The storyline - driven by an incredible sound track that reflects the high-octane highs on the track and emotional lows both at home and when on the receiving end of corporate decisions based on personality slights - is set in the lead up to the 24-hour endurance race at Le Mans in France in 1966. Ferrari have consistently won the race but have been been hemmoraging money; Henry Ford wants to put the Ford Motor Company on the same pedestal as the Ferrari brand.
In comes Lee Iacocca (Jon Bernthal) with a strategy which involves legendary Carroll Shelby (Matt Damon), the only American to win Le Mans, and an outstanding sports car designer in his own right. Shelby fights to have his friend Ken Miles (Christian Bale), arguably the best mechanic and driver suited to the job, but who has rubbed one of Henry Ford II's senior executives up the wrong way.
So, Shelby is given the job of building a car and a team to knock Ferrari off their perch, but not without corporate interference and seeing how they can beat the laws of physics and stretch the interpretation of the rules as much as they can. There are a number of memorable scenes involving Henry Ford II as a teffified passenger in a race car, of Ken Miles - Christian Bale does a wonderful English midlands accent - and his wife Mollie Miles (Caitriona Balfe) and their son who idolises his father and follows his every move on the track.
All in all, a gripping action drama / sports biopic that should stand the test of time, helped by a superb script, electric performances and a stunning sound track.