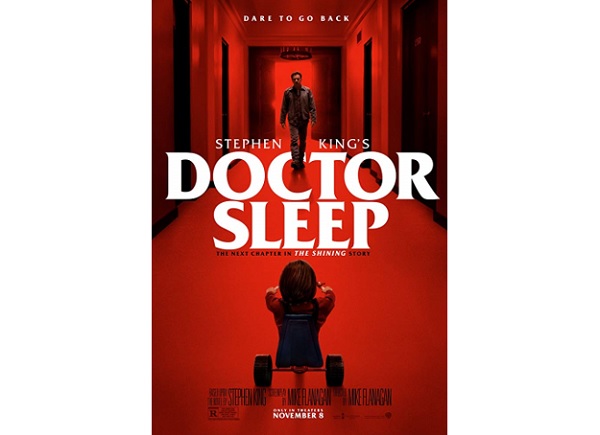 Directed by Mike Flanagan (Gerald's Game; Before I Wake; Oculus) and starring Ewan McGregor (Christopher Robin; Star Wars: Episode VII - The Force Awakens; Salmon Fishing in the Yemen; Angels & Demons; Deception; The Island; Trainspotting), Rebecca Ferguson (Mission: Impossible - Rogue Nation; Men in Black: International; The Greatest Showman; The Girl on the Train) and Kyliegh Curran (I Can I Will I Did).
Horror; 151 mins; 16+
Based on the novel by Stephen King and as a sequel to The Shining (1980), the storyline features Danny Torrance (Ewan McGregor), the sone of Jack Nicholson's character in the original film. Danny has tried to forget his powers which he calls "the shining" and drifts to a New Hampshire town and takes up a position as a carer and who also helps out at the town's model railway for children. He is still troubled by his past and has compartmentalised the spirits from the hotel into "boxes" in his mind to try to forget about them; he also attends AA sessions in the town.
Meanwhile, across the country, Rose the Hat (Rebecca Ferguson) is the leader of The True Knot, a group of people who travel around in camper vans and who prey on children with powers to remain immortal, living off their "steam".
At the same time, a young girl, Abra Stone (Kyliegh Curran), develops similar powers and attracts the attention of Rose and her followers. Danny tries to intervene and help Abra, but he believes that the situation can only reach a conclusion by returning to the Overlook Hotel in Colorado where the he reawakens the spirits from his childhood.
Stephen King has taken one aspect of The Snining and has used it to develop the storyline of Doctor Sleep which goes off in a completely new direction. There are references to the first film by Stanley Kubrick, and this film does end up back at the infamous hotel in Colarado, but in reality (?) this is a stand-alone film that refers to the first.
A great watch, particularly on Hallowe'en night, but it doesn't have the gore or screms associated with many horror films today. A very solid production with many outside shots showing off the film's cinematography and the locations' splendid countryside views.