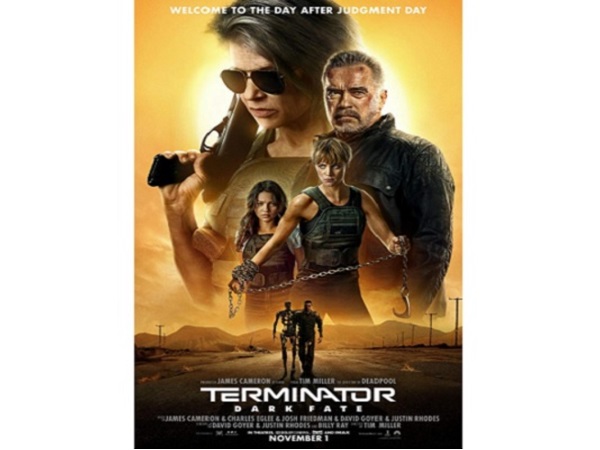 Directed by Tim Miller (Deadpool) and starring Linda Hamilton (The (Terminator; Terminator 2: Judgment Day; Beauty & the Beast; Dante's Peak; Children of the Corn), Arnold Schwarzenegger (The Terminator...; Stay Hungry; Last Action Hero; Total Recall; Predator; End of Days; Conan the Barbarian; Twins; Kindergarten Cop), Natalia Reyes (Sticks and Stones; Running with the Devil) and Mackenzie Davis (Black Mirror; Blade Runner 2049; The Martian).
Action adventure; 128 mins; 12+
Terminator: Dark Fate reunites Linda Hamilton and Arnold Schwarzenegger for the first time since Terminator 2: Judgment Day (1991). It actually ignores the other three Terminator "sequels", i.e. Rise of the Machines (2003), Salvation (2009) and Genisys (2015), and presents itself as THE sequel to the 1991 film, following the original 1985 blockbuster.
Set in Mexico, Grace (Mackenzie Davis) falls to Earth and quickly discovers Dani Ramos (Natalia Reyes) whom she has been sent to protect against a Terminator. She is an enhanced former soldier and has been sent back in time from 2042 after receiving some significant enhancements to her body following a near-fatal incident.
Also quickly appearing on the scene is a "blast from the past", Sarah Connor (Linda Hamilton), with Grace and her not trusting each other while also both understanding the need to protect Dani. The three women then seek out the source of their instructions and come across Carl (Arnold Schwarzenegger) who lives with his family in secluded isolation.
Together they combine forces to defeat Dani's foe in a helter-skelter series of quick-fire and high testosterone incidents that will leave you gripped with anticipation and gripping your seat... or the person next to you. While the basic features of the Terminator may be there, it has been enhanced by way of a newer model (Rev-9), but so too has Grace...
This "sequel" has been a long time coming and has certainly been worth the wait; top action scenes and special effects, as well as flashbacks that allow the audience to piece together the various strands of the story and understand its characters.