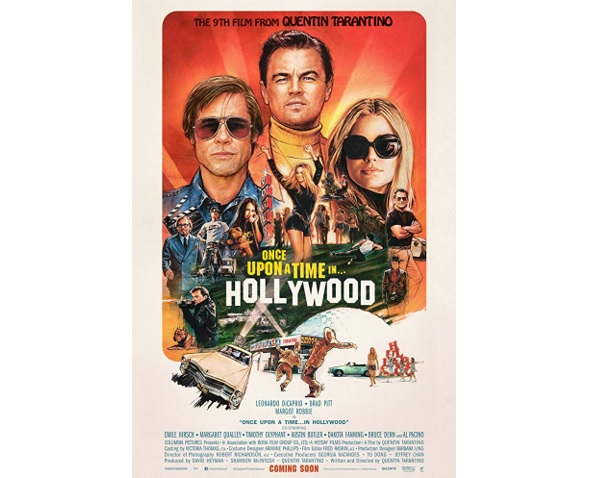 Directed by Quentin Tarantino (Pulp Fiction; Django Unchained; Inglourious Basterds; The Hateful Eight; Reservoir Dogs) and starring Leonardo DiCaprio (The Revenant; The Wolf of Wall Street; The Aviator; Titanic; Catch Me If You Can; Inception; Shutter Island), Brad Pitt (12 Years a Slave; Moneyball; The Curious Case of Benjamin Button; Legends of the Fall; The Departed; Burn After Reading), Margot Robbie (I, Tonya; Mary Queen of Scots; The Legend of Tarzan; The Wolf of Wall Street; Goodbye Christopher Robin; About Time) and Al Pacino (Scent of a Woman; Dog Day Afternoon; Dick Tracy; Serpico; The Godfather; Ocean's Thirteen; Any Given Sunday).
Drama; 161 mins; 16+
A nostalgic throwback to the late 1960s in Hollywood and Los Angeles, following the actor Rick Dalton (Leonardo DiCaprio) and his stunt double Cliff Booth (Brad Pitt) who remained close friends in spite of their different echelons in their film industry careers - Rick Dalton has a large house with a swimming pool on a private road, while Cliff Booth drives back to his trailer (and his dog) every night after dropping Rick Dalton home (he is also Rick Dalton's driver and handyman).
When Marvin Schwarz (Al Pacino) approaches him with the offer to film some spaghetti westerns in Italy, it is at a time when his confidence is low, he is starting to forget his lines and he fears his time as a star may be over; meanwhile, Cliff Booth is living a seemingly carefree lifestyle and is content in what he is doing and where he is heading.
During his drives home, he sees a number of hippies who are hitch-hiking; one day he picks up one of them and drives her home to her commune which turns out to be Manson Family who have set up residence in an former film set located in a desert...
At the same time, Roman Polanski moves in to the house next door to Rick Dalton along with his new wife Sharon Tate (Margot Robbie) who is pregnant. Polanski goes away on business and she has a few friends to stay with her...
So the setting is there, and so is the audience expectation that, as this is a Quentin Tarantino film, there is one or more scenes of glorified violence coming up...
The film includes a number of, not sub-plots per se, but scenes that enrich the main storyline; one in particular stands out involving Sharon Tate going to a local cinema to see "The Wrecking Crew", a recent release in which she stars, and delights at the reactions of the audience. This is just one small example of the character development in the film that is one of Quentin Tarantino's trademarks.
Other characters that the main characters come across include Bruce Lee (Mike Moh), Steve McQueen (Damian Lewis) and Sam Wanamaker (Nicholas Hammond), with some of them present at a party at the Playboy Mansion in another scene.

So Tarantino paints a picture of life in Hollywood in the late 60s, in effect a tribute to the final moments of Hollywood's golden age, with strong dialogue between the characters who all have their role to play in setting the scene and preparing the audience for the grand finale.
At another level, the film visits the "golden age" of Hollywood in its final years. Rick Dalton is vulnerable and plagued by self-doubt and insecurity, while Cliff Booth's unflappable persona is the one most exposed as he relies on Rick's success and landing new roles. Meanwhile, Sharon Tate is portrayed as a star on the rise, with her director husband Roman Polanski now one of the hot new properties in Hollywood.
At almost two and three quarters hours long, it certainly does not seem that long, and there are no dips in momentum either, meaning that the audience is carried along on a journey rather than a rollercoaster ride. With the wardrobe and props (particularly concerning the cars) departments doing a sterling job, this is arguably one of the most authentic films of that time - just compare it to some of the early episodes of the Columbo tv series that started in 1971. All components contribute to a superb cinematographic experience.
One to watch once the Golden Globes and the Oscars come around in next year's award season - not only for the acting from DiCaprio, Pitt and Robbie, but also for Quentin Tarantino for best director, best original screenplay and best film... He has certainly carved out his niche, not only in Hollywood but also in the film industry worldwide, and "Once Upon a Time ... in Hollywood" certainly has his trademark written all over it.
Oh, and don't leave before the credits have rolled...