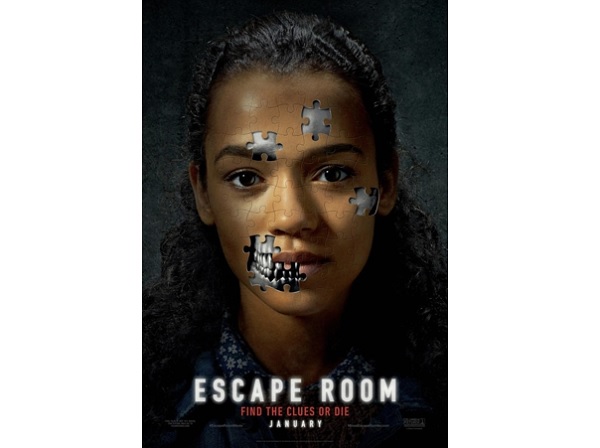 Directed by Adam Robitel (Insidious: The Last Key; The Taking of Deborah Logan) and starring Taylor Russell (Before I Fall; Hot Air; and Lost in Space (tv series)), Logan Miller (Tilt; Love, Simon; You Can Choose Your Family; Scouts Guide to the Zombie Apocalypse; and Guardians of the Galaxy (TV Series)), Jay Ellis (Breaking Through; and The Game, and Insecure (TV Series)), Tyler Labine (Rise of the Planet of the Apes; Monsters University; Zack and Miri Make a Porno; and The X-Files (TV Series)), Deborah Ann Woll (True Blood; Mother's Day; Silver Lake) and Nik Dodani (Atypical; Murphy Brown; Alex Strangelove).
Thriller; 100 mins; 16+
Six strangers from completely different and contrasting backgrounds - Zoey (Taylor Russell), Ben (Logan Miller), Jason (Jay Ellis), Mike (Tyler Labine), Amanda (Deborah Ann Woll) and Danny (Nik Dodani) - receive mysterious boxes which turn out to be invitations to an immersive Escape Room with a $10,000 prize.
They all assemble in the waiting room which - spoiler alert! - turns out to be the first "room" from which the have to escape - with their lives. They pit their wits against the games-master and join forces to pool their talents and knowledge to escape one looming disaster after another when they find themselves in extreme situations.
An interesting, edge-of-your-seat adventure film cum thriller (not belonging to the horror genre) in a modern setting which sets the pulses racing and explores each character's background, developing them to firstly understand what they have in common and why they have been brought together, and then to collaborate to be able to get out alive.
Influenced by Saw (2004), Final Destination (2000) and Cube (1997), Escape Room focuses on the elaborate puzzles and trying to solve the various clues - the main question in each room is basically how to get how and what they have to do to achieve that.
But there is an interesting twist at the end...……
With few decent thrillers being available on the big screen at present, this is well worth it for those who like adventure / thriller genre films.