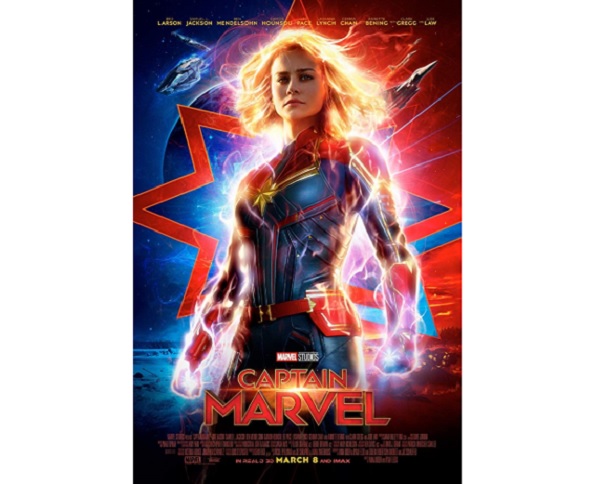 Directed by Anna Boden (Sugar; Mississippi Grind) and Ryan Fleck (Sugar; Mississippi Grind; It's Kind of a Funny Story) and starring Brie Larson (Unicorn Store; Kong: Skull Island; Room; Scott Pilgrim vs. the World), Samuel L. Jackson (Pulp Fiction; Glass; Avengers: Infinity War; Miss Peregrine's Home for Peculiar Children; The Hateful Eight) and Jude Law (Cold Mountain; The Talented Mr. Ripley; The Grand Budapest Hotel; Anna Karenina; Hugo).
Action adventure; 123 mins; 12+
The film starts off in an intergalactic setting and introducing Vers (Brie Larson) a member of the Kree race and a member of the elite Starforce Military under the command of her mentor Yon-Rogg (Jude Law). It is only when she lands on earth (through the roof of a Blockbuster store...) during an attack by the Skulls, that the storyline actually starts and other characters enter the picture, including SHIELD Agent Nick Fury (Samuel L. Jackson).
Earth then is caught in the middle of a galactic war between two alien races, with Vers (spoiler alert - later becoming aware that she was formerly known as Carol Danvers) struggling to remember her past through memory flashbacks.
While under attack, she pieces together fragments of her past, through memories and photographs, and has to choose which side she is on.
All in all, this is an entertaining super hero film which fills in the missing pieces between The Avengers' Infinity War and End Game.