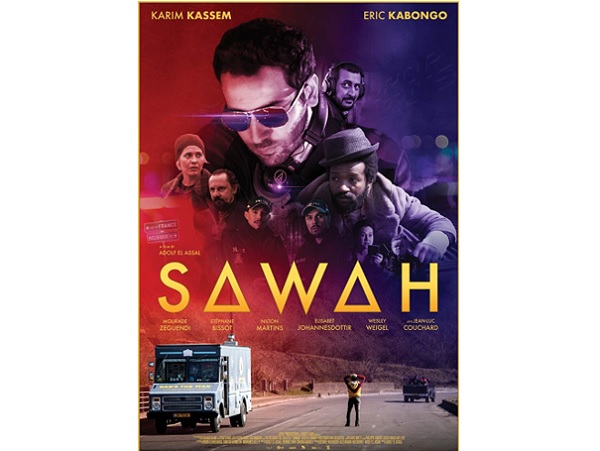 Directed by Adolf El Assal (Les gars / The Famous Guys; various shorts) and starring Karim Kassem (Cairo Time; Sons of Rizk; The State (TV Mini-Series)) and Eric Kabongo (Welcome to Germany; Black; What About Eric?).
Comedy drama; 90 mins, 6+
A labour of love for Adolf El Assal who co-wrote, directed and produced this highly entertaining family comedy that is set against the relatively recent civil unrest and violence in Egypt. The film opens with Samir (Karim Kassem) playing a high-tempo set as DJ Skaarab, and winning a contest which sets him on the road to Belgium for the DJ world championships.
Although his girlfriend wants to stay in Cairo as the street demonstrations rise in intensity, and she senses that change may be afoot, he wants to get out into the bigger (and better) world. This he manages to do, but his flight lands in Luxembourg, with his onward flight to Brussels cancelled, meaning he has to take a bus laid on by the airline. The bus stops at a motorway service station, still inside the Grand Duchy, and he unwittingly gets caught up in a police operation where they have discovered a van load of illegal immigrants. From there he is interrogated by the police and handed over to a social worker who, in turns hands him over to Daniel (Eric Kabongo), from where his adventures really begin.
While the comedy takes around 20 minutes to creep into the film - while the stage is set and the storyline gains momentum - when it does start, it never stops. The two lead actors deliver compelling performances and the other characters all have strong and believable personalities that merge seamlessly with the plot and develop as the storyline unfolds.
The film deals with a number of social issues too, from civil unrest and immigration, and it also involves the criminal underworld, as well as likeable ruffians - the fellow traveller who assumes Samir's identity at one stage, a great example.
What is original here is that it is a Luxembourg comedy, and local audiences can identify with many locations used in the shoot.
During the post-screening Q&A, Adolf El Assal demonstrated his linguistic skills by answering questions in Luxembourgish, French and English, as well as his infectious personality which shone through as did it on the solver screen.
"Sawah" held its world premier during the Luxembourg City Film Festival 2019; it will have an avant-premier at Kinepolis-Kirchberg on Tuesday 19 March and will go on general release the following day, Wednesday 20 March.