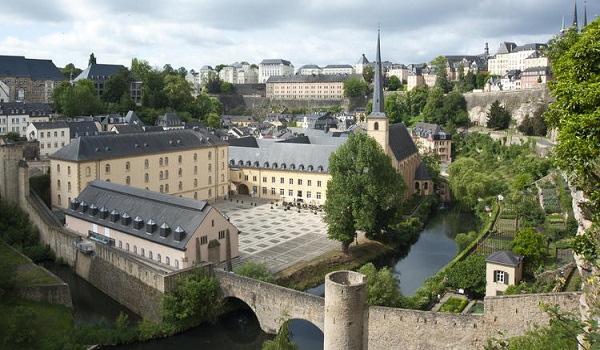 Credit: Neumünster Abbey
The Neumünster Abbey Cultural Exchange Center (neimënster) has shared the response of the producers and distributors of the VR short film "Ayahuasca (Kosmik journey)" following allegations of sexual violence implicating an individual who appears in the film.
A BBC investigation has reportedly uncovered cases of sexual abuse perpetrated in shamanic ceremonies related to ayahuasca, implicating an individual who appears in the VR short film "Ayahuasca (Kosmik journey)", which is currently being shown at neimënster in Luxembourg-Grund.
Following accusations of sexual violence linked to shamanic ceremonies using ayahuasca, Luxembourg production company a_bahn, producer of French director Jan Kounen's "Ayahuasca (Kosmik Journey)", as well as producers ATLAS V and MacGuff, and the distributor Diversion, published a press release to denounce these acts:
"It was with great sadness that we discovered, in the BBC article of 16 January 2020 entitled "I was sexually abused by a shaman at an ayahuasca retreat", accusations of sexual abuse perpetrated in certain circles linked to shamanic ceremonies using Ayahuasca.
Ayahuasca is a millennial psychotropic plant native to South America used for therapeutic purposes. The article by Simon Maybin and Josephine Casserly published by the BBC also involves, in particular, the Peruvian shaman Guillermo Arévalo. This is not unknown to us since it appears in our Ayahuasca virtual reality experience (Kosmik Journey).
Although our film is in no way affected by the alleged facts, we are particularly shocked by this information. While we respect the presumption of innocence, we also know how difficult it is for the alleged victims to speak up. We also know how complex, for the latter, the judicial process is, fraught with pitfalls making it difficult to file complaints or bring them to justice. We know this and it is for this reason that we have decided to support the necessary release of their words by publishing this press release.
It is incumbent upon us to take these problems seriously and to give the liberated voices every opportunity to be heard so that they can initiate a fair, impartial and honest justice process. This is why we, the producers and the distributors, wish to express our solidarity in the hope that light can be shed on these accusations".
Neimënster has stated that it supports the statements of the production company a_bahn and expresses its solidarity with the victims.