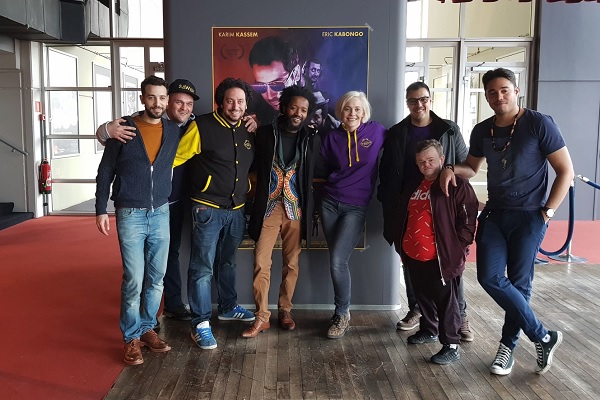 "Sawah" cast and crew (Director Adolf El Assal third from left); Credit: Jazmin Campbell
On Friday afternoon, just prior to the World Premiere of "Sawah" at the Luxembourg City Film Festival, Chronicle.lu got the opportunity to talk with Luxembourgish-Egyptian director Adolf El Assal.
Speaking of the origins of the film idea, Adolf El Assal explained that the storyline drew significantly from his own first-hand experiences. He recounted the entertaining story of how his parents left Egypt to undertake a trip around Europe and mistakenly ended up in Luxembourg. They ultimately decided to stay and make their lives in the Grand Duchy. In fact, El Assal's own father plays the role of the main character's father in the film.
Regarding casting, the director commented on his wish from the offset to cast an attractive, talented Egyptian actor, who was also fluent in English, as the main character. He stated that, following a few impressive auditions, Karim Kassem was the obvious choice. El Assal added: "It felt like I had known him my whole life". Regarding other casting choices, the director explained how several characters were "created with the actor[s] in mind".
The director went on to state that budgetary limits meant that most of the filming had to be done in Luxembourg, with some filming taking place in Belgium and Egypt. Inevitably, it often proved challenging to film scenes set in Egypt in the Grand Duchy during the winter. One thing that did not prove difficult was post-production and editing since the film could rely on a top editor from Belgium.
Adolf El Assal also highlighted the importance of music to the film which tells a story of mistaken identity involving an Egyptian DJ in Luxembourg. Indeed, the director succeeded in recruiting the talented Luxembourgish composer Eric Bintz, who stepped up to the challenge of composing what had to seem like an old, classic Egyptian song, as well as an electronic sampling of the original. Buying the rights to existing Egyptian music proved challenging for a number of reasons.
As for future projects, the director explained that "Sawah" is the first of a planned trilogy. Each of the three films will be "completely different style-wise", with the second film set to be a "coming-of-age story on basketball", drawing on El Assal's own experience as a professional basketball player in Luxembourg. The director did make clear that the central theme of the trilogy would be "identity".
The film is set for release on 20 March 2019 and there are already seven festivals worldwide to look forward to.