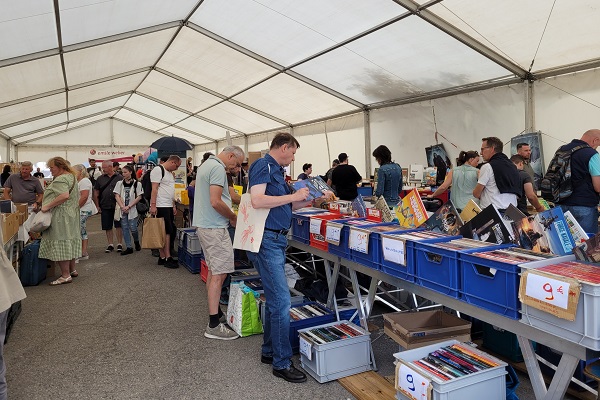 Credit: Jazmin Campbell/Chronicle.lu
Several events took place across the Grand Duchy this past weekend, from the Blues'n Jazz Rallye in Luxembourg City, Holi celebrations in Esch-sur-Alzette and the closing performances of Festival de Wiltz to American BBQ Days in Niederanven and the Al Dikkrich festival in Diekirch; another highlight was the 29th edition of the Festival International de la BD (international comic book festival) in Contern.
About 9,200 visitors (as confirmed by the organisers) flocked to Contern on Saturday 15 and Sunday 16 July 2023 for this ever-popular event, which will celebrate its 30th anniversary next year. Luxembourg's Prime Minister Xavier Bettel also made an appearance this year.
Comic book enthusiasts and other curious visitors had the opportunity to browse the many comic books (in French, German, Luxembourgish, English...) and related merchandise (toys, T-shirts and other collectibles) and add to their collections - or start new ones.
In addition to listening to live music and enjoying some food at one of the many stands scattered around the village, visitors could have their comic books signed by more than 50 comic book writers and illustrators from Luxembourg, the Greater Region and beyond who could be found mainly in the sports hall. A shuttle bus ran regularly between the nearby car park and Sandweiler station and the event itself, which took place mostly outdoors but also in the sports hall and the local church, among other indoor venues.
The festival catered to all ages, with many families (and quite a few dogs) showing up for a day of fun, food and, above all, all things comics. For the younger visitors, there was a bouncy castle and various other games and activities. Several people were also dressed up as their favourite comic book/fantasy characters (from Star Wars, The Lord of the Rings, Ghostbusters, etc.).
The 30th edition of this international comic book festival will take place in Contern on Saturday 20 and Sunday 21 July 2024.