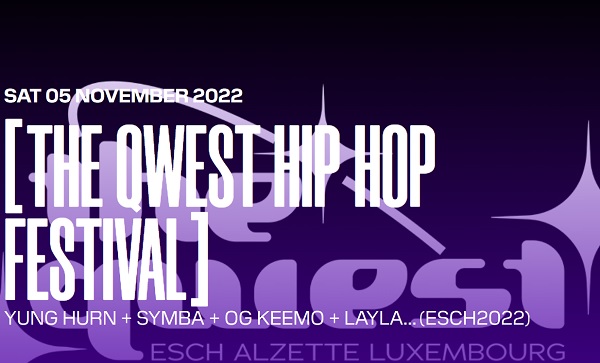 The first edition of The QWEST - Hip Hop Festival, organised by the Rockhal and Konektis Entertainment with the support of Esch2022, will take place in the Main Hall of the Rockhal in Esch-Belval on Saturday 5 November 2022 at 19:00.
Following the success of the digital QWEST Challenge in 2021, which aimed to unite and bring the Luxembourg hip hop community to the fore in the midst of the COVID-19 pandemic, Konektis and the Rockhal took up the challenge in 2022 to host a large event dedicated to this culture and local youth.
About fifteen artists will perform at the Rockhal on 5 November, including some of the most popular artists on the German and Luxembourgish hip hop scene at the moment:
19:00 – DJ DEE (LU)
19:45 – The QWEST Digital Challenge winner
20:00 – LAYLA (DE)
20:45 – SIXO (LU)
21:00 – OG KEEMO (DE)
21:45 – TURN UP MAN TUN & Co (LU)
22:00 – SYMBA (DE)
23:00 – STAYFOU (LU)
23:30 – YUNG HURN (AT)
Also on the agenda: entertainment, fashion, a food village, etc.
Moreover, the Rocklab has launched the second edition of The QWEST Freestyle Challenge in parallel with the festival. This is a participatory hip hop freestyle musical challenge open to young rappers and fans of this musical style with the aim of encouraging the creativity of young talents. In 2021, the videos of the 40 participants selected for the contest had generated more than 30,000 cumulative views on the Meta platform.
The challenge is taking place from 1 to 30 September 2022 on Instagram, where young participants are invited to create and share a short rap video freestyle (30 to 60 seconds) on a hip hop instrumental (or "beat") produced by Luxembourg's Magestick Records. The challenge is only open to Luxembourgers and to residents between the ages of twelve and 25.
The best freestylers - voted by the public on Instagram, after selection by a jury - will win a live showcase on the big stage of The QWEST festival, as well as prizes such as tickets for concerts at the Rockhal, vouchers and access to the Rocklab rehearsal rooms and creation studio.
Further information about the festival is available at: https://rockhal.lu/shows/the-qwest-hip-hop-festival/. For more information about the online challenge, visit: https://rockhal.lu/shows/the-qwest-freestyle-challenge/.