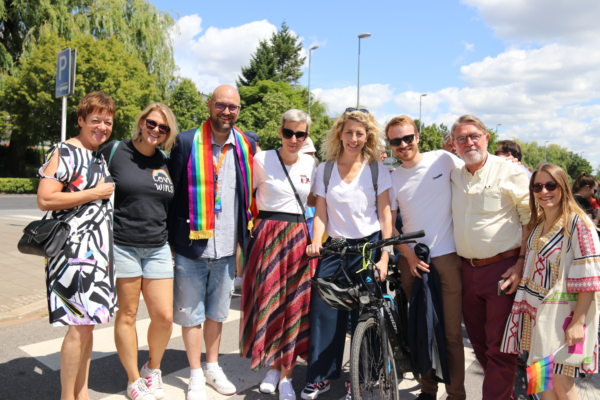 (L-R, 3rd) Tom Hecker, President, Rosa Lëtzebuerg; (4th) Sam Tanson, Minister for Culture, Minister of Justice; (5th) Joëlle Welfring, Minister for the Environment, Climate and Sustainable Development; Credit: Kangkan Halder
On Saturday 9 July 2022, the Equality March kicked off the two-day Luxembourg Pride Street Fest with a vibrant display of colours and pride, starting at Parking Aloyse Meyer in Esch-sur-Alzette.
The event aimed to raise awareness and highlight the demands of the LGBTIQ+ community for legal equality and acceptance.
Speaking to Chronicle.lu, Luxembourg's Minister for Family Affairs and Integration, Corinne Cahen, said: "Its great to see so many people here for the Pride, but I think we should not forget what happened last week in Olso. So I am really happy that in Luxembourg we can live in peace, and we are going to fight for more rights, equality and diversity".
The Minister for Culture and Minister of Justice, Sam Tanson, and the Minister for the Environment, Climate and Sustainable Development, Joëlle Welfring, also participated in the Equality March.
The British Ambassador to Luxembourg, Fleur Thomas, participating in the parade, said: "We are really happy to be supporting equality beacuse we feel that it's important for everyone to live true lives and be themselves".
The Equality March, an integral part of Luxembourg Pride Week, running from Friday 1 to Sunday 10 July 2022, has several novelties this year. Not only has the popular street fest returned in its full physical form, after a two-year break, with digital and hybrid editions in 2020 and 2021 respectively (due to the COVID-19 pandemic), this year Esch-sur-Alzette is also celebrating Esch2022 - European Capital of Culture under the slogan "Remix Culture". The Equality March is one of the main attractions of this celebration of diversity and acceptance. Moreover, the various concerts, drag shows, dance and other shows are being held on two different stages this year, for the first time, at Place de l'Hôtel de Ville and Place Helen Buchholtz.
Furthermore, in line with the Esch2022 motto "Remix Europe", the Equality March this year exceptionally kicked off in both Luxembourg and on the French side of the border, making the Luxembourg Pride Equality March the second cross-border Pride Parade in Europe.
Last but not the least, there are no participation fees for vehicles or marching groups this year.
Luxembourg Pride has been organised by Rosa Lëtzebuerg asbl since 1999 and, since 2010, is taking place in Esch-sur-Alzette for the thirteenth time in a row.
Protocol Affairs Officer at the City of Esch-sur-Alzette, Dominique Vitali, predicted that over 1,000 people have participated in the parade. He clarified that the old route was getting smaller due to increase in participation and therefore a much longer route of about 4 km is organised this year.
Speaking of personal experiences, sixteen-year-old Luxembourg resident Emma commented: "I am here today because in last few years I have experienced a lot problems and lot of discrimination because of my sexual orientation. I am here to fight for my rights and the rights of the [LGBTIQ+] community. I am very proud to be finally here and be with all these amazing people".
Chronicle.lu met several people who were participating in the Equality March to support their friends or family members.
The Equality March, a demonstration of solidarity and rejection of hatred and ignorance, came to a jubilant end after colourful displays and floats at around 15:00, with the aim of getting one step closer to an inclusive society.
Later in the day, DJ Pippa, George Philippart and Promis3 will take the stage in Place Helen Buchholtz while local headliners CHAiLD and Edsun will be on the main stage at Place de l'Hôtel de Ville. Drags shows and a dance show from Boy George & Culture Club is also taking place during the evening.
On Sunday 10 July, the celebrations will continue from 10:00 onwards, starting with a Rainbow Breakfast and Drag Bingo.