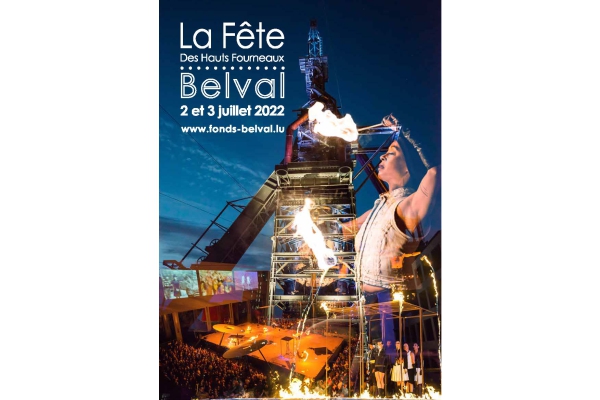 Credit: Fonds Belval
The Fonds Belval has announced the Blast Furnace Festival taking place on Saturday 2 and Sunday 3 July 2022 with various shows and activities blending culture, arts and science at Avenue du Rock'n'Roll in Esch-sur-Alzette in the south of Luxembourg.
Agenda
Saturday 2 July from 18:00 to 01:00
19:00 : NAOMI JAZZ TRIO - This original trio was created by three musicians who together, deliver a unique a style of music at the crossroads of jazz, soul and pop.
21:00 : FRED BARRETO GROUP - This passionate Blues & Rock quartet combines the timeless energy of Rock with the soulful vibes of the Blues to create a new musical identity.
22:30 : HORIZON(S) – A magnificent fire and dance show, produced by the "La Salamandre", "Lève Un Peu Les Bras !" and "Manda Lights".
23:30 : MICHAEL CANITROT DJ SET – DJ and electronic music producer, Michael Canitrot is the creative force behind The Monumental Tour, a project which showcases French monuments by mixing electronic music and heritage. It is a musical and visual experience that invites the public to explore the region's heritage in a new light.
Sunday 3 July from 11.00 to 19:00
12:00 : CLAUDINE MUNO concert at Place Couverte.
13:15 : ZERO POINT FIVE concert at Place Couverte.
14:15 : WITH dance performance by the company "Lève Un Peu Les Bras!" at the Plancher des Coulées.
15:30 : ONNANOKO dance performance by Jill Crovisier at the Plancher des Coulées.
15:30 : PLAY dance performance by the company "Corps In Situ" at the place Ënnert den Héichiewen
16:00 : SERGE TONNAR concert at Place Couverte.
Visitors will be able to take part in the various workshops and activities organised throughout the day in the fields of music: KANAL KLANG, architecture: ATELIER MOULAGE and science: SCIENTEENS LAB.
There will be free play areas for all ages, as well as a reading corner with the author Mireille Weiten and illustrator Marco Weiten (from Waha) who will offer fun readings as well as the LUX:PLORATIONS exhibition of scientific comics.
On both days:
GIANT ZIP-LINE 60 m high between the blast furnaces (€5)
TOUR OF THE BLAST FURNACES (free)
MUSIC: Kanal Klang
Exhibitions:
Respire, pour un design climatique (Breathe, for a climatic design) at the Massenoire
Earthbound – En dialogue avec la nature (Earthbound – In dialogue with nature) at the Möllerei
Presented by Esch2022 – European Capital of Culture.
The City of Science and the large model of Belval in the exhibition room in the Maison de l'Innovation.
Detailed programme is available online via: www.fonds-belval.lu.