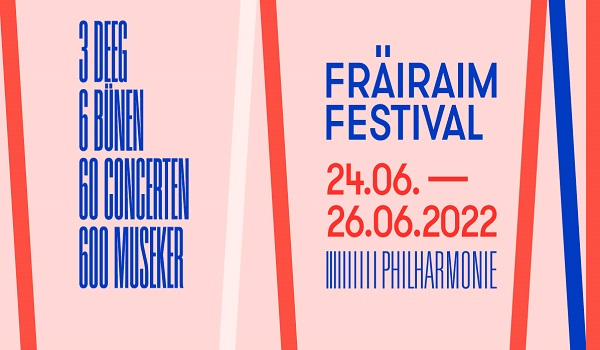 From 24 to 26 June 2022, the Fräiraim Festival will celebrate Luxembourg and the Greater Region's music scene with 60 concerts played by 600 musicians across six stages inside and outside Philharmonie Luxembourg in Place de l'Europe (Luxembourg-Kirchberg).
The festival is free and no tickets are necessary, is open to all ages and will offer a variety of musical genres, from pop and rock, jazz and electro to classical music.
Originally planned for June 2020 in celebration of the Philharmonie's 15th anniversary, but postponed twice due to the COVID-19 pandemic, the festival is finally going ahead this year, giving artists from the Greater Region, professionals and amateurs alike, an even bigger platform.
Stephan Gehmacher, Director of the Philharmonie, was particularly pleased that the festival could finally take place in June 2022: "Every time, it is impressive to witness how inventive and committed the various artists in Luxembourg – amateurs and professional musicians alike – are. Actively and steadily, they shape the Luxembourgish music scene. That is what we want to celebrate, placing the Philharmonie exclusively at the service of artists from Luxembourg and the Greater Region for a weekend".
Sam Tanson, Luxembourg's Minister of Culture, also expressed her enthusiasm for the initiative: "For many ensembles and groups, their performance at the Philharmonie is certainly a highlight before the summer, one they have prepared for months. This work should be celebrated, and I am delighted that so many musicians will be able to showcase their abilities on the main stage. They are part of our music scene, and I wish them all, and the Philharmonie too, a successful music festival".
Apart from the well-known stages of the Philharmonie's Grand Auditorium, the Salle de Musique de Chambre (chamber music hall) and Espace Découverte (discovery space), the Foyer and the PhilaPhil hall will also host performances during this festival. Outside, there will be a lounge and a large stage in Place de l'Europe.
The Fräiraim Festival will kick off on Friday 24 June 2022 with a 30-minute concert by Luxembourg Jazz Voices - INECC in the Salle de Musique de Chambre at 18:00. A concert by the Orchestre de la Place de l'Europe in the Grand Auditorium and an electronic (house) live set in the outdoor lounge, both at 17:45 on Sunday 26 June 2022, will bring the three-day event to a close.
The festival is taking place in cooperation with the Yumm Festival, a food truck festival organised by Fonds Kirchberg.
The full festival programme is available online at https://frairaimfestival.lu/en/program