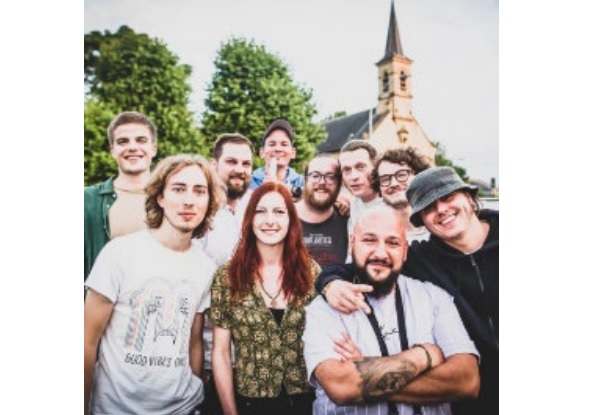 Le Vibe to perform on Mayday 2022;
After two years of having no such events, the Abbaye de Neumunster in Luxembourg-Grund has confirmed that it is ready to host the (almost annual) Labour and Culture Day with a series of concerts, multilingual shows, children's workshops, and unmissable gastronomic village.
Sunday 1 May 2022 is Labour Day when the traditional popular family festival is organised by the OGBL, in collaboration with neimënster, ASTI and ASTM. It has become one of the most popular events in the capital city since its inception 16 years ago, held in a festive and relaxed atmosphere.
Programme:
11:00-12:00: Naomi Jazz Trio (jazz, salle Nic Klecker)
13:00 - : Hurluberlus (masked marching band, walkabout)
13:15 - 14:15: An Erming (Celtic music, courtyard)
13:30 - 17:30: Manège Titanos (carousel, at entrance)
14:00 - : Keen Doheem (Luxembourgish cabaret, salle Edmond Dune)
14:30 - : Le travail! (theathrical readings, Chapel)
14:30 - 15:15: Le Vibe (ska / reggae, courtyard)
14:45 - 15:45: Les Gavroches (French songs, salle Nic Klecker)
15:00 - : Minimaus (kamishibai & umbrella theater, 3-7 years, hall José Ensch)
15:45 - 16:45: INK – Mourir pour ses idées (revolutionary songs, courtyard)
16:00 - 17:10: Wok'n Woll (music, 8+ years, salle Robert Krieps)
16:30 - 17:30: Hannah Ida (pop, salle Nic Klecker)
17:00 - 18:00: The Disliked (ska / reggae, courtyard)
10:00 - :Espace et désir 2.0, by Álvaro Marzán (exhibition, cloisters)
10:00 - : Lucien Wercollier (exhibition, walkabout)
For full details, see www.neimenster.lu