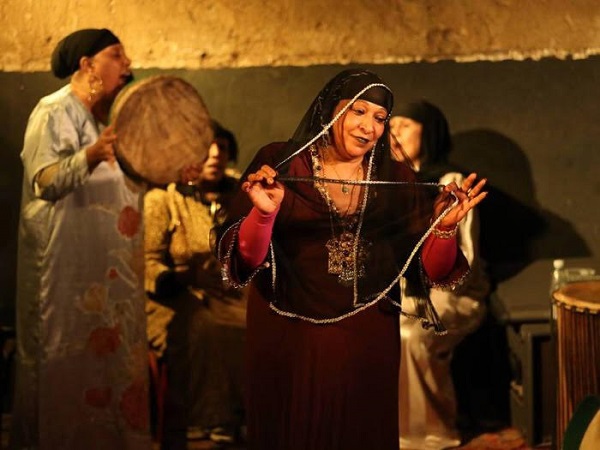 Egyptian Zar at ESCH2022;
The European Capital of Culture, Esch-sur-Alzette, under the ESCH2022 BELONG initiative, has announced that it is bringing to Luxembourg some of the last remaining ancient Egyptian Zar healing ritual practitioners, along with some of the finest Egyptian traditional musicians who will perform together with local artists in a breath-taking spectacle.
Zar is a community healing ritual of drumming and dancing, poly-rhythmic songs and chants, that has been mis-perceived as a form of exorcism. However, the aim of Zar is to harmonise the inner lives of the participants by providing space to work out their tensions and frustrations of social constraints which limit their movements, their voices and even their dreams.
This unique spectacle brings together on stage the sound of ancient instruments from the Pharaonic era, flutes, citterns and drums, and the sound of modern, bass and saxophone. The Egyptian musicians (Nass Makan) uses techniques, forms and warm sounds of their origins, joining Gypsy music the Delta with Zar songs, taking the audience on an exhilarating show.
During their stay in Luxembourg, Nass Makan will be giving a free-of-charge masterclass to present their art and culture to the public, followed by workshops with local artists to exchange their arts towards a concert at Esch theatre.
Schedule of events:
• Ancient & traditional Egyptian music masterclass (Sat 30 April 2022 @ 11:00 – 18:00 @ Bâtiment 4)
• Workshops with local artists (1-5 May 2022 @ 11:00 – 17:00 @ Rocklab)
• Ethnic Egyptian fusion concert (Fri 6 May 2022 @ 20:00 @ Escher theatre)
For bookings and registration, see www.belong.lu