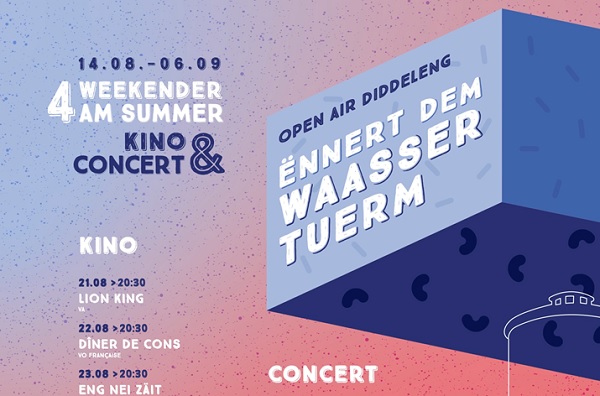 The Ville de Dudelange has announced that its Open Air Dudelange summer festival will take place over four week-ends and will take in 6 film screenings and five music concerts, with bars and foodtrucks available at both.
The Dudelange Regional Cultural Center opderschmelz (CCRD) and the National Audiovisual Centre (CNA), in collaboration with the Regional School of Music and the City of Dudelange, are orgnaising an exceptional outdoor event under the stars in Dudelange.
From 14 August to 6 September 2020, the open-air festival "Unnert dem Waassertuerm" will take place in Dudelange. During four weekends, the car park of the CNA and the CCRD opderschmelz (as in previous years) - with the water tower and the former iron works as backdrop - will be transformed into a public holiday place.
Fri 14 Aug @ 19:30: Jazz concert with Michel Portal + Paul Lay; Tinissima 4tet: Zorro
Sat 15 Aug @ 19:30: Jazz concert with Bojan Z + Julien Lourau; Emile Parisien 4tet: Double Screening
Sun 16 Aug @ 11:00: Jazz concert: Jazz for Kids; Enseignants ERMD
Fri 21 Aug @ 20:30: Lion King screening (DE)
Sat 22 Aug @ 20:30: Diner de Cons screening (FR)
Sun 23 Aug @ 20:30: Eng Nei Zait screening (LU with FR sub-titles)
Fri 28 Aug @ 19:30: Ezio (Singer-songwriter)
Sat 29 Aug @ 19:30: Pop concert: Joris
Fri 04 Sep @ 20:30: Bohemian Rhapsody screening (EN with FR sub-titles)
Sat 05 Sep @ 20:30: Titanic screening (EN with FR sub-titles)
Sun 06 Sep @ 20:30: Superjhemp screening (LU with FR sub-titles)
Tickets available from www.cinestarlight.lu (film screenings, €7/adult; €5/U12s) and www.opderschmelz.lu (concerts; €25 presale; €30 on the evening)