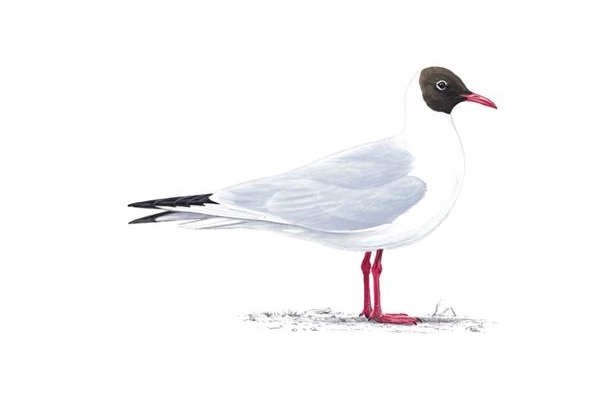 A black-headed gull; Credit: RSPB
On Friday 26 May 2023, Luxembourg's Ministry of Agriculture, Viticulture and Rural Development confirmed that a new case of avian influenza (virus type H5N1) has been confirmed in a black-headed gull in Remerschen.
For some time now, cases of bird flu have been increasing among colonies of black-headed gulls in different regions of Europe. The risk of a large-scale spread of the avian influenza (bird flu) is currently low, as wild birds are in the midst of breeding and therefore remain in a specific area. However, the risk of avian influenza transmission to domestic poultry in these nesting areas is high.
The Luxembourg Veterinary and Food Administration therefore strongly recommends that farms with poultry in the Remich canton comply with the following preventive measures:
- Biosecurity rules must be scrupulously respected;
- Feeding and watering must take place in premises that are not accessible to wild birds;
- It is advisable to protect the poultry exit areas with nets to avoid any contact with wild birds;
- An unusually high number of cases of illness or death, a drop in laying performance or a decrease in water and food consumption should be reported to a veterinarian;
- All poultry imports must be covered by a health certificate (TRACES) issued by an official veterinarian of the country of origin. This obligation also applies to the purchase of poultry on a market.
All owners of poultry must register their establishment with the Luxembourg Veterinary and Food Administration.