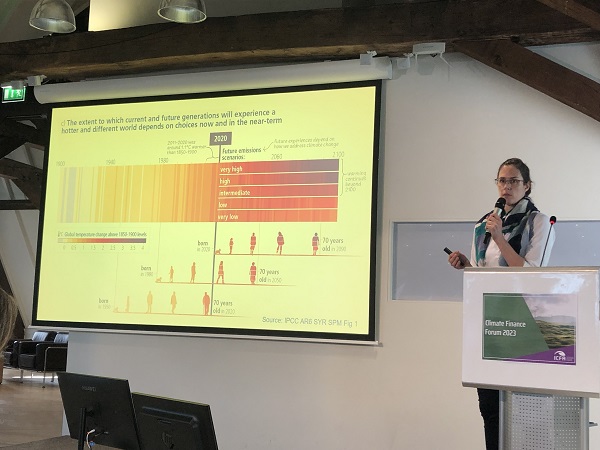 Dr Claudia Hitaj, Advisor at the Luxembourg Ministry of the Environment, Climate and Sustainable Development; Credit: Otilia Dragan/Chronicle.lu
This year's Climate Finance Forum kicked off on the morning of Friday 26 May 2023 at the Abbaye de Neumünster (neimënster) in Luxembourg-Grund.
The forum, organised by the Luxembourg-based International Climate Finance Accelerator (ICFA), aims to tackle pressing climate issues through finance and to collectively find ways of overcoming challenges and barriers.
Stephan Peters, Chief Executive Officer of ICFA, welcomed the audience, pointing out that this event is open to everyone interested in learning more about the trends and challenges of climate finance. He noted that there would be sixteen roundtables organised throughout the day and stressed the need for climate finance. According to Stephan Peters, the focus is that of mitigating global warming to 2°C, and ICFA is working with emerging fund managers, providing access to tools, knowledge, coaching and financial support to help reach this goal. So far, he reported the support of 28 fund managers.
The day started with two ministerial speeches, by Luxembourg's Minister of Finance, Yuriko Backes, and Dr Claudia Hitaj, Advisor at the Luxembourg Ministry of the Environment, Climate and Sustainable Development.
Minister Backes' address was pre-recorded, due to her work visit to China. In her speech, she stressed the importance of energy source diversification in Europe motivated by the current crisis. Minister Backes highlighted that recent CO2 emissions have now even exceeded pre-pandemic levels and that every country's engagement matters, "no matter how small". Minister Backes also noted that "we are not scaling up anywhere new fast enough" and that "public sector investments will not be enough". She also recalled that sustainable finance is key, noting the necessity of a "certain degree of de-risking."
Furthermore, she stressed the need for gender finance to become an integral part of the global financial arsenal, noting that research has shown that "female led companies have a better carbon footprint." Minister Backes also pointed out the "need to move from reacting to preparing for climate change to cope with impacts," and stressed that Luxembourg is looking to support innovation.
Next, Claudia Hitaj held a presentation about the importance of sustainable finance in the context of the current climate emergency. She pointed out that her speech would not be cheering and presented the potentially devastating consequences of climate change – including extreme weather events in the near future and vast generational and geographical climatic inequalities. Dr Hitaj also stressed that the biggest impact one can have is through sustainable finance, by "getting investment flow to go where it is most needed".
Claudia Hitaj also touched upon the three main actions the government is taking for climate change mitigation and adaptation, namely: reducing national greenhouse gas emissions and the National Energy and Climate Plan, providing €220 million for international climate finance between 2021 and 2025 and offering support for sustainable finance.
The day will continue with speeches on themes such a biodiversity, women as climate leaders, green finance support and capital investing strategies to support climate change mitigating by Piet Colruyt (Impact Capital), Carmen Niethammer (EIB), Patrick Losch, as well as representatives of the European Investment Bank (EIB), the European Investment Fund (EIF), EVPA, Innpact, Mercy Corps Ventures, LuxFLAG, Deloitte, Incofin, Finance in Motion and many more.