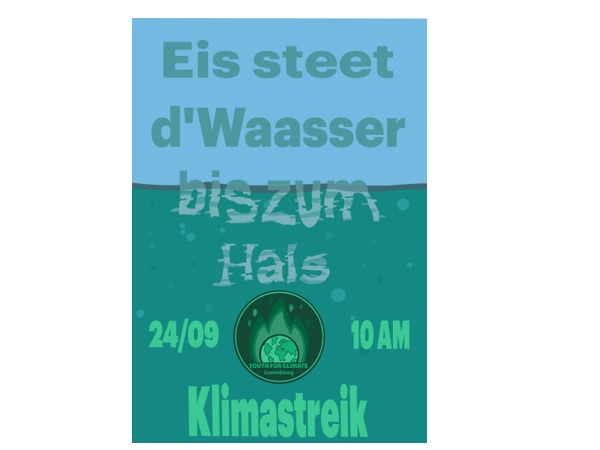 Youth for Climate Luxembourg has announced that it holding a nationwide climate strike on Friday 24 September 2021, starting at 10:00.
According to the organisation's press release, "for decades now, ecologists have tried to raise the alarm about the climate crisis. No one listened to them. For decades now, people in the global south have been suffering the partly fatal consequences of the climate crisis. Still, many people, mainly politicians, are not taking their responsibility seriously or even acknowledging it. Still, the climate crisis rears its ugly head. Despite this worrying truth, our demands are overlooked. We are asking ourselves when the people in power will understand that they need to act. Their passive way of (not) handling things costs lives. Something needs to change, now."
"The floods that we experienced in Luxembourg and other affected areas are only a small part of the worldwide destruction and chaos that the climate crisis is causing, and will continue to cause, and yet they were still devastating. 229 lives were lost throughout Europe, livelihoods ruined and families were left bereft! Temperatures in Canada rose to almost 50 degrees C and around 100 people died. In China there were horrible floods and in California (USA), Greece, Turkey, Russia, Iran and many other countries there are ongoing detrimental fires. How many people and animals need to die until the government understands that something needs to change? When will politicians understand that our demands are not wishful thinking, but the only way to save us from the deadly consequences of the climate crisis?"
Since the organisations' first strike on 15 March 2019, it has demanded climate neutrality by 2030. A few days ago, the new climate report of the Intergovernmental Panel on Climate Change (IPCC) came out and the prognosis is chilling. Scientists think that we will already reach the 1.5 degree celsius global warming in 2030, that is 10 years earlier than the last simulations predicted. The demand 'climate neutrality by 2030' did not simply appear out of nowhere but is the conclusion of a scientific consensus and is therefore non-negotiable.
The press release concluded "Because we have had enough of the government's half-hearted, ineffective political action, we are organising a strike at 10:00 on 24 September. This is the international strike day to demand that the government assume their responsibility to avoid further catastrophes and deaths and to leave our, and future generations, a liveable future behind. The whole event will of course be organised to be in line with the current sanitary restrictions".
Further details and information will follow soon.