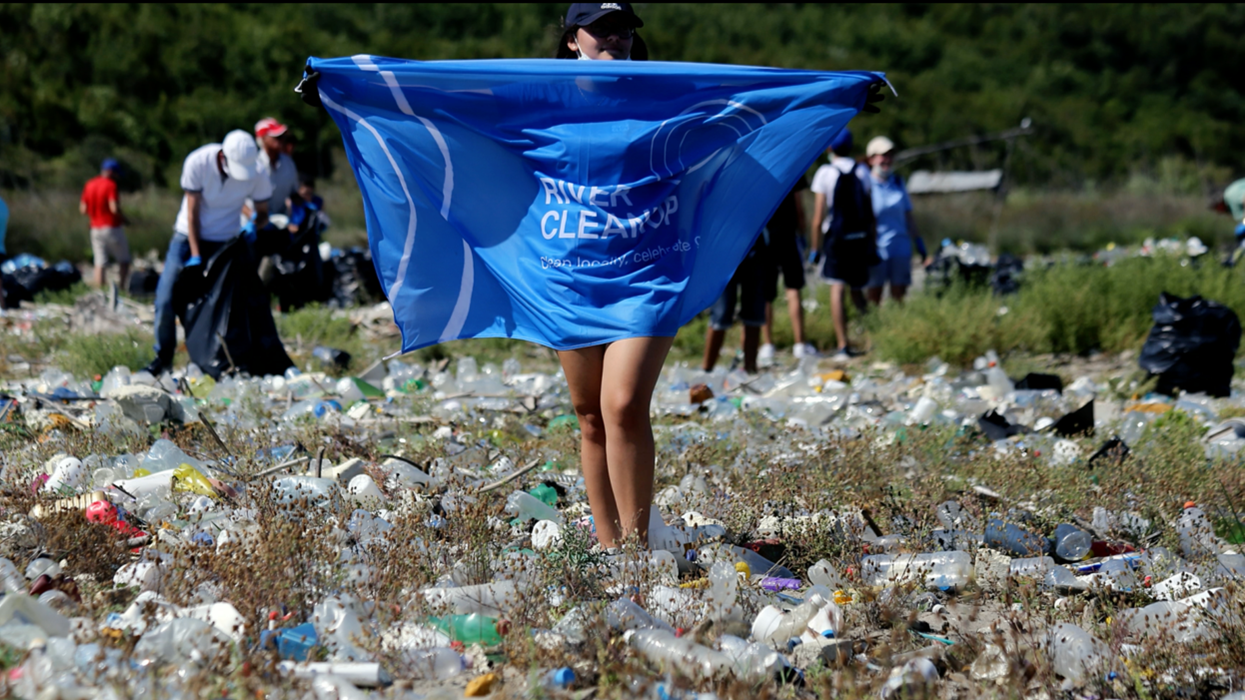 River Cleanup;
Sunday 6 June 2021 is designated as World River Cleanup as part of World Oceans Day across the world, a day on which Luxembourg can play a role in collecting plastic before it pollutes our oceans.
It all started in 2017 with a challenge: picking up waste from rivers for only ten minutes and making everyone aware of the problem. Unfortunately, 8 billion kilograms of plastic are dumped into our oceans each year and no less than 80% of this mass comes from rivers and streams. River Cleanup aims to stop those 8 billion kilograms from reaching the oceans by 2030. In addition to cleaning up rivers and shores, River Cleanup has developed programmes for schools and businesses to reduce the use of single-use plastic and involve participants in the solution. This Belgian NGO also implements smart technologies to collect floating waste. On the eve of World Oceans Day on 6 June, River Cleanup is calling for no less than 1,000 clean-up actions around the world. Last year there were more than 300 actions in 45 countries resulting in 161 rivers being cleaned.
More than 100,000 people in less than 4 years
Rivers and streams are the blue arteries of our planet. Unfortunately, many of them are heavily polluted mainly due to plastic waste. In order to limit the pollution caused by plastic that escapes collection and recycling, action must be taken before it reaches our oceans.
Since its launch, more than 1,500 actions have been organised across 6 continents.
• At the start in 2018, Thomas de Groote, the founder of River Cleanup had the ambition to involve nine cities in three countries along the Rhine. In fact, more than 10,000 people lent a hand and cleaned up the banks of the river in 60 cities, from its source to its estuary. Five countries took part in this first action.
• In 2019, less than two years after the first ten-minute action, River Cleanup mobilised 40,000 people along ten rivers and streams in Europe and Asia. For the first time, smart technologies for collecting floating waste have been implemented along the Citarum (Indonesia), the river considered to be the most polluted in the world.
• In 2020, no less than 100,000 people in 45 countries mobilised to locally clean the banks of 161 rivers, streams and other streams. These actions inspire the local community to move, get involved and get involved for a clean environment while having a global impact.
Actions have taken place in the following countries in particular (non-exhaustive list): Belgium, Lithuania, Russia, India, Germany, United States, France, United Kingdom, Switzerland, Australia, Portugal, Indonesia, Japan, Nepal, Country -Bas, Namibia, Albania, Denmark, Philippines, Palestine, Morocco, Gabon, El Salvador, Poland, Singapore, Cambodia, Brazil, New Zealand, South Africa, Ireland, Sri Lanka, Spain, Sweden, Romania, Austria, Kazakhstan , China, Malaysia, Kosovo, Italy, Chile, Pakistan, Ukraine, Hungary, Slovakia.
Target for 2021
This year, the ambition is to collect 1,000,000 kilograms of plastic from river sources to reach 8 billion by 2030 ...
Thomas de Groote, founder of River Cleanup, stated "I decided to tackle the problem at the source, by eliminating the waste before it reaches the sea, that is to say in the rivers and on the shores by encouraging action with actions all over the world. We firmly believe that educating citizens, transforming businesses and actively cleaning up our rivers and streams are the most effective solutions to prevent plastic pollution from invading our environment".
The Belgian NGO is calling on all citizens, communities and organisations as well as these Luxembourg border workers to join the fight against plastic pollution. As a reminder, the presence of plastic in the environment has enormous consequences on ecosystems, which are widely linked on social networks and recognised by the scientific community. Indeed, large plastic debris can trap and immobilise animals while small pieces inadvertently end up in the stomachs of birds and aquatic animals such as dolphins, turtles and fish with, consequently, serious problems generating pain, suffering and even death. Plastic and organic waste thrown into nature are responsible for thousands of deaths each year, many diseases and the degradation of the living environment.
But the direct impact of this plastic pollution on our health is less well known to this day. We already know that microplastics attract and concentrate pesticides, detergents and other toxic materials, and are found in the foods and drinks that we consume regularly (salt, fish, drinking water, beer, etc.). Each individual consumes an average of 5 grams of micro-plastic, or the equivalent of a credit card every week. We can assume that this weekly intake of microplastics will prove to have a negative impact on our well-being, on our health, on our survival.
This year, River Cleanup World - jointly organised with Let's do it World - will be held on 6 June with more than 1,000 local actions, along 200 rivers in 50 countries. The flagship event will take place in Cameroon, along the Wouri, one of the most polluted rivers in Africa where, since the start of the year, more than 100,000 kg will have been collected in partnership with NAMé Recycling.
Join us and tackle the problem by becoming part of the solution: Registration and info: https://www.river-cleanup.org/fr/world