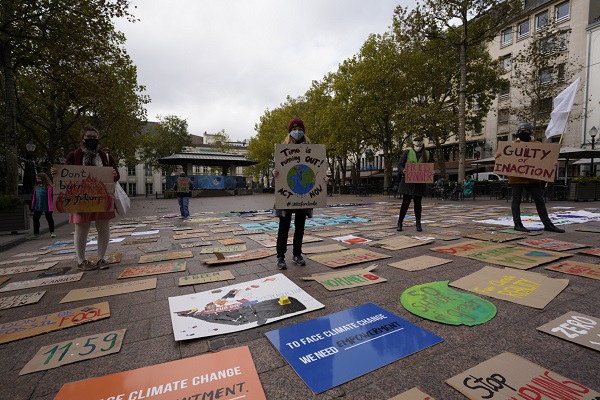 Credit: United for Climate Justice
Climate activists reiterated the urgency of the climate emergency on the occasion of the Prime Minister's State of the Nation address yesterday.
In order to highlight that their concerns and demands are still relevant, Luxembourg's young people decided to bring them to Prime Minister Xavier Bettel in the context of his state of the nation address.
In a statement released yesterday, Luxembourg's "United for Climate Justice" coalition (made up of trade unions and environmental organisations) confirmed its support for Luxembourg's young people in their efforts to remind the government of the climate emergency. Whilst acknowledging the importance of the ongoing health crisis, the coalition stressed that climate change remains the most serious threat to human survival on this planet.
United for Climate Justice argued that "it is imperative that the decisions taken by the Chamber of Deputies are 100% in line with the objectives of the Paris Agreement and precisely that of keeping global temperature warming below 1.5 °C. The government should only take actions that do not harm our planet in the long run, but on the contrary help heal it".
The coalition added that the destruction of ecosystems would lead to other health and social crises in the future and lamented that "the European Union and most other countries responsible for climate change do not follow the recommendations of scientists to implement sufficient reduction rates for greenhouse gas emissions today". Luxembourg is no exception.
The movement maintained that young people in Luxembourg and beyond were "absolutely right to be worried about this uncertain future and to demand justice and lasting climate stability for everyone". The coalition thus renewed its support for the global youth movement worried about its future.
The United for Climate Justice coalition concluded by raising awareness of the urgent need for effective and socially balanced climate protection measures.