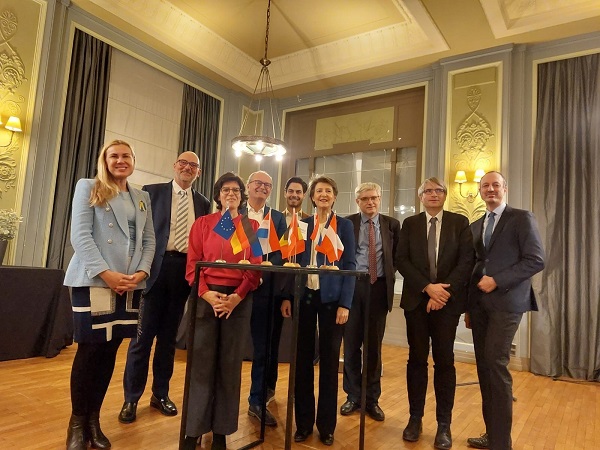 Pentalateral Energy Forum meeting in Brussels (L-R): Kadri Simson; Alain de Muyser; Tinne van der Straeten; Claude Turmes; Rob Jetten; Simonetta Sommaruga; Laurent Michel; Sven Giegold; Jürgen Schneider; Credit: MEA
On Sunday 18 December 2022, Luxembourg's Ministry of Energy and Spatial Planning confirmed that energy ministers from Austria, Belgium, Switzerland, Germany, France, the Netherlands and Luxembourg met earlier in the day in Brussels to discuss security of supply and transition energy.
In the framework of the Pentalateral Energy Forum, chaired by Luxembourg and in the presence of the European Commissioner for Energy, Kadri Simson, the ministers agreed on an improved communication protocol in the event of a crisis and a number of possible measures to enable mutual aid in the region.
The forum reconfirmed their solidarity in the event of a crisis and strengthened their coordination to build a zero-carbon electricity system by 2035 at the latest.

The Pentalateral Energy Forum is a framework for regional energy cooperation that has initiated several actions for greater integration of the electricity market and better security of supply in Europe. The Luxembourg presidency in 2022 was marked by the war in Ukraine and the energy crisis. The existing network of trust between the authorities and the ministers of the different countries has proved to be very useful for strengthening coordination on gas storage, for exchanging on energy saving campaigns and for comparing and improving the respective assessments of security of supply in terms of both gas and electricity.
For Luxembourg's Minister of Energy, Claude Turmes, the Pentalateral Energy Forum is a reliable format for regional energy collaboration: "Among the main achievements of this Forum during the Luxembourg presidency, I salute in particular the efforts undertaken in full energy crisis to guarantee security of supply in our region. In addition, the studies presented this Sunday evening on a carbon-free and renewable electricity system by 2035 and a draft of green hydrogen infrastructures constitute an important step towards making Western Europe a truly integrated electricity market dominated by renewable energies. The close coordination with the countries bordering the North Sea, including Great Britain and Norway, which were also present at the meeting, is a major asset in rapidly reducing our dependence on fossil fuels and in guaranteeing competitive electricity for our industries."