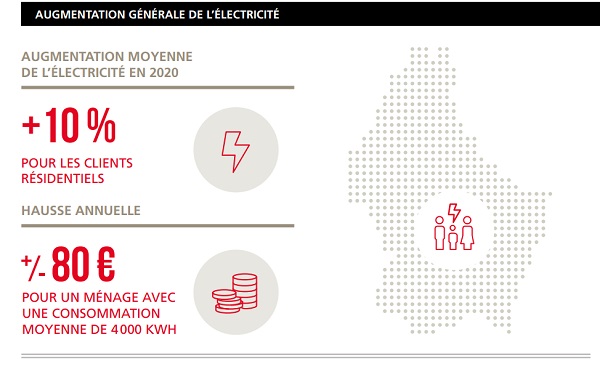 Credit: ILR
The Luxembourg Regulatory Institute (Institut Luxembourgeois de régulation, ILR) today announced that electricity bills in Luxembourg rose on average by 10% in January 2020.
The ILR noted that for January 2020 the prices of electricity billed to residential customers increased on average by almost 10% compared to 2019. This is equivalent to an annual increase of around €80 for a household with an average consumption of 4000kWh.
According to the ILR, this general increase is due to the increase in the three elements that make up the consumer's final bill: the price of energy which includes the supplier's electricity supply, administrative costs and marketing costs (up 13%); network usage tariffs, verified and approved by the ILR, which cover the transport of electricity by network infrastructures (up 7%); and taxes and charges, including the contribution to the compensation mechanism, in other words a legal charge used to finance the subsidies granted to power plants based on renewable energy or high-efficiency cogeneration (up 10%).
The ILR also stressed that the price of energy varies according to the electricity supplier chosen by the customer. Indeed, since the liberalisation of the electricity and natural gas market in 2007, any consumer is free to choose the supplier and the offer that suits him / her best. The ILR has thus encouraged consumers to take advantage of the competition and to learn more about the supply offers available. It added that changing suppliers is easy, free and involves little administrative work and no technical installation changes. Consumers can compare electricity and natural gas offers on www.calculix.lu.
For consumers wishing to participate actively in the energy transition, the ILR has recalled that it is possible to produce electricity by means of solar panels for their own consumption. Since 1 January 2020, consumers who wish to use their own electricity production can now benefit from the abolition of charges and fees for self-consumed electricity, thus saving 16 cents per kWh self-consumed (about 5 cents more than in 2019).