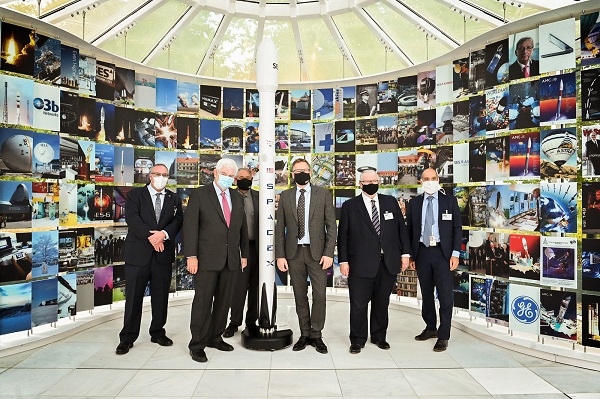 US space delegation at SES; Credit: US Embassy in Luxembourg
Former Speaker of the United States House of Representatives, Newt Gingrich, led a US space delegation in Luxembourg from 22 to 24 September 2020.
US Ambassador to Luxembourg J. Randolph Evans hosted a space delegation from the US for a series of meetings in the Grand Duchy this week. The delegation was led by Newt Gingrich and included NASA's Acting Associate Administrator for International and Interagency Relations, Mike Gold, as well as the Department of Commerce's Director of the Office of Space Commerce, Kevin O'Connell.
The delegation expanded US-Luxembourg cooperation further by building on the groundbreaking 2019 Space Cooperation Memorandum of Understanding signed by US Secretary of Commerce Wilbur Ross and then Luxembourg Deputy Prime Minister Etienne Schneider, as well as the joint statement signed by NASA Administrator Jim Bridenstine and Luxembourg Space Agency (LSA) Director Marc Serres. The delegation discussed specific opportunities for Luxembourg space companies to participate in NASA's Artemis Programme and affirmed the leading role both nations will play in the return of man (and sending the first woman) to the moon.
Ambassador J. Randolph Evans noted: "This was a historic visit for our relationship with the Grand Duchy and its space industry. Bringing together these great American and Luxembourgish leaders truly served to make great advancements and partnerships in the space industry. Together, our nations are forging forward into this ever expanding and increasingly important industry".
The members of the space delegation met with representatives from the following leaders of government and industry in Luxembourg: Minister of the Economy, Franz Fayot; LSA; SES Industries; Govsat; Gomspace; Bradford / Deep Space Industries; Odysseus; Spire; Kleos Space; OQ Technology; Made in Space; ispace.
The meetings focussed on ongoing US-Luxembourg collaboration in space policy and developing partnerships for Luxembourg's growing commercial space industry.