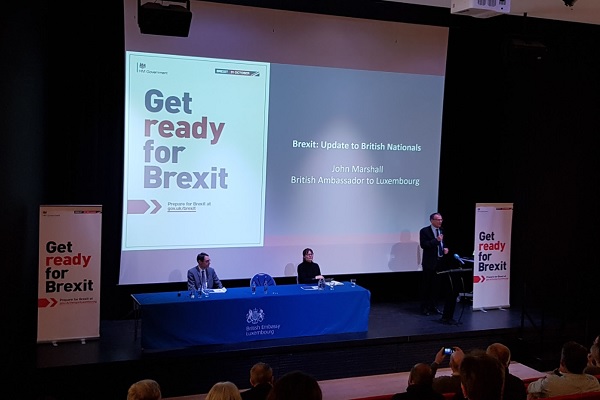 British Ambassador to Luxembourg, John Marshall; Credit: Jazmin Campbell
On Monday evening, the British Chamber in Luxembourg held a Citizens' Rights Information Evening at St George's International School on the potential impact of Brexit on British nationals residing and / or working in the Grand Duchy.
Following a brief introduction by Christian Barkei, Director of St George's, the British Ambassador to Luxembourg, John Marshall, began his presentation with a summary of the current political context with regards Brexit negotiations.
The British Ambassador particularly emphasised that the latest withdrawal agreement reached between the UK government and the EU last Thursday offered the same arrangements as those agreed under Theresa May's premiership in November 2018 in terms of citizen's rights, the financial settlement, governance, the implementation period and the situation in Cyprus and Gibraltar. He recalled that the new agreement was different namely in that it would remove the Irish backstop.
Nevertheless, Ambassador John Marshall recognised the UK Parliament's decision on Saturday to pass the Letwin amendment, thus delaying MP's decision on the deal until the relevant legislation giving effect to the agreement passes through parliament. He added that whilst the speaker did not allow for another "meaningful vote" on the deal, the bill was introduced into parliament on Monday with a second reading scheduled for Tuesday. The British Ambassador reiterated the UK Government's intention to leave with this recently agreed deal on 31 October 2019, after which an implementation period would come into effect until the end of December 2020.
In the event of this deal passing through the British Parliament, the situation of UK nationals in Luxembourg would remain largely unchanged, according to the ambassador. That is to say, British citizens legally residing in the Grand Duchy before the end of the implementation period would retain the same rights as EU nationals in the areas of residency, work and access to the job market, healthcare and social security and travel, at least until the end of December next year.
However, with no deal still representing a very real possibility, Ambassador John Marshall was keen to focus on planning for the potential implications of this scenario for British nationals in Luxembourg. The rest of his presentation thus focused on the consequences of a no deal Brexit on citizens' rights related to residency, employment, healthcare, higher education, passports, driving licences and pets.
Residency
The Luxembourg Government has made it clear that UK nationals will be able to stay in the Grand Duchy regardless of the Brexit outcome. In the case of a no deal, most British citizens will fall into one of three categories: those working for international organisations in Luxembourg, in which case the right to residency continues to depend on the possession of a "Carte de légitimation"; those with dual citizenship (UK-EU) who may need to register again in the relevant municipality with their EU nationality; those with a "Carte de séjour" who do not have EU citizenship. For those falling in the latter category, the carte de séjour would remain valid for a period of twelve months, during which time UK nationals would need to apply for a new third country residence permit within nine months of the exit date.
Right to Work
In the case of no deal, UK nationals would be able to continue working in their current jobs in Luxembourg, including those working in the public sector thanks to a specific Luxembourgish legislation. Cross-border workers could continue to live across the border and work in Luxembourg but would have to apply for a special permit. Meanwhile, those who are unemployed, have not yet joined the labour market or are changing their job can secure employment in the first year after Brexit without having to take a labour market test. After this period, they would be subject to the test.
Healthcare
There would be no changes to CNS health coverage for UK nationals living in Luxembourg even in the case of no deal. Conversely, S1-holders (ie those who paid into the NHS but are retired in Luxembourg) would be covered for the first three months after Brexit (with the UK continuing to reimburse health costs), during which time they would need to apply to join the local healthcare system (ie pay €117 per month into the CNS from the fourth month onwards). For UK nationals visiting Luxembourg, it should be noted that the UK-issued EHIC will no longer be valid and so visitors would need to take out private travel insurance. Finally, whilst UK nationals in Luxembourg moving back to the UK to live would have full access to the NHS, those nationals only visiting the UK would not have the same access as UK residents. S1-holders would, however.
Studying in UK
UK nationals residing in the EU would be entitled to home fees for the duration of their university studies, whilst EU nationals starting studies from Autumn next year (2020/21) would also pay home fees for the duration of their course. Information on the situation from 2021/22 should be available by spring 2020. In any case, there would be a seven-year transition period for UK nationals residing in the EU. In Luxembourg, British students would continue to pay the same fees as other EU nationals, although they may no longer be eligible for CEDIES financial support unless they are long-term residents (5+ years), work in Luxembourg or not have an EU/EEA national parent working in Luxembourg for at least five years.
Passports
In future, UK nationals would need to ensure that they were in possession of a passport that is less than nine and a half years old and with at least six months validity remaining. They would no longer be able to queue in EU lanes or use e-gates at the airport. However, British citizens visiting Luxembourg for a short period (up to 90 days in a period of 180 days) would not require a visa.
Driving licences
In the case of a no deal, UK nationals residing in Luxembourg would have up to 12 months to exchange their British driving licence for a Luxembourgish one. This would be a simple exchange for holders of a category A/B licence (car/motorcycle), but holders of licences for larger vehicles may need to set an additional test. British nationals visiting Luxembourg will still be able to use their UK licence but may need an international driving licence to pass through other countries along the way.
Pets
In the event of no deal, pet owners would still be able to take their pets to the UK, although it may be more difficult coming back to the EU. Indeed, UK-issued pet passports may no longer be recognised.
More details are available on the gov.uk website and more specifically, the Living in Luxembourg guide.
British Ambassador John Marshall concluded his presentation by reiterating that the UK Government wants to leave the EU on 31 October 2019 with the deal agreed last week. He added that if the UK leaves without a deal, however, British nationals in Luxembourg would have to take additional steps but that there would still be no "cliff edges", with sufficient time to prepare for these eventualities. On the other hand, if the deal does pass parliament the implementation period will be triggered until December 2020, leaving time for another Citizens' Rights event next year.
The presentation was followed by a long and lively Q&A session with the predominantly British audience- most of whom confirmed having only UK citizenship. Alex Naqvi, Deputy Head of Mission at the British Embassy in Luxembourg, and Emeline Bell, EU Exit Consular Policy Officer, were on hand to answer questions and offer advice alongside the ambassador. Questions touched further on the topics of health insurance (ie for EU nationals going to the UK), cross-border workers' rights (residency and work permit requirements), the validity of driving licences, state pension rights, the 15-year-rule (whereby British nationals living outside the UK for more than fifteen years can no longer vote in British elections) and long-term residency in Luxembourg.
The questions asked often reflected the confusion and frustrations of the audience members on the subject of Brexit, many of whom were denied the right to vote in the 2016 referendum. Indeed, one woman asked if her young, UK-born son would still be able to one day study at a British university as a British national if he moved to Luxembourg in the near future and, due to his age, did not fall within the scope of the seven-year transition period. Emeline Bell confirmed that he would not in fact be able to apply to a British university as a home student in the case of a no deal Brexit. Another audience member asked how his EU spouse would be treated if they return to the UK for retirement and he, a British national, were to die there. The British Ambassador suggested that the spouse would apply for pre-settled and eventually settled status in the UK.
Ambassador John Marshall later continued to take questions from the audience during a reception.