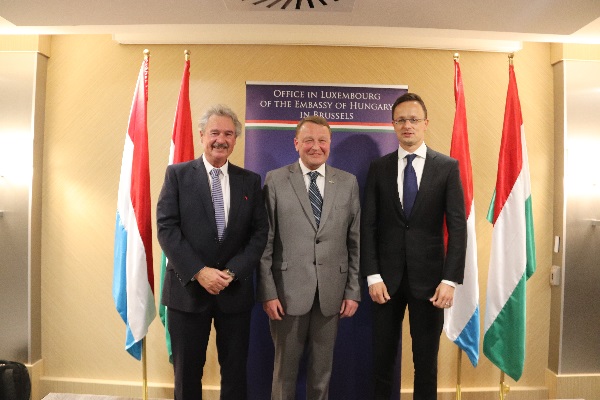 L-R: Luxembourg Minister of Foreign and European Affairs Jean Asselborn; Jean Ries, Honorary Consul General of Hungary in Luxembourg: Péter Szijjártó, Hungarian Minister of Foreign Affairs; Credit: MAEE
Today marked the official inauguration of the Hungarian Embassy Office in Luxembourg.
Taking part in this inauguration was Luxembourg Minister of Foreign and European Affairs Jean Asselborn, who, in the presence of his Hungarian counterpart Péter Szijjártó, delivered a short speech. On this occasion, Minister Asselborn welcomed the fact that after the closure of the embassy in 2009, there is once again a diplomatic presence from Hungary in Luxembourg. He added that Luxembourg is pleased to welcome "a growing community of Hungarians who feel at home in Luxembourg".
In addition, Jean Asselborn warmly welcomed the good economic relations between the two countries, stating that: "In 2018, all trade between the two countries exceeded 140 million and Luxembourg is among the largest foreign direct investors in Hungary" .
The Luxembourg diplomat also welcomed the establishment of a direct air link between Luxembourg and Budapest with three weekly flights from October 2019, as well as the doubling of air cargo capacity between the two capitals.
In conclusion, Minister Asselborn stressed the importance of good cooperation based on common values ​​and an open dialogue, especially on European policy issues, which will make it possible to identify new opportunities for the benefit of the people of these two European countries.