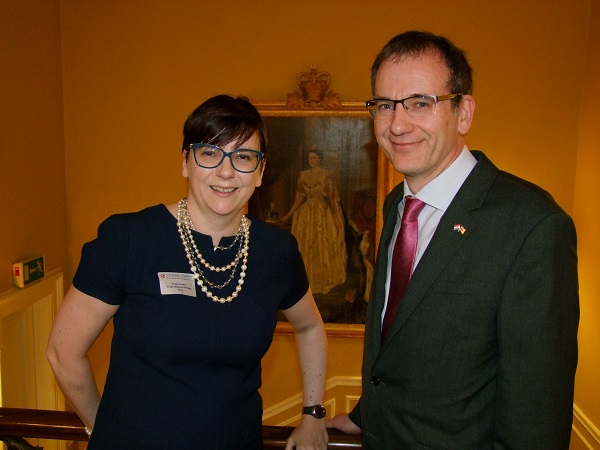 (L-R): Joanne Denton, BCC Chair; John Marshall, British Ambassador to Luxembourg;
On Wednesday 9 January 2019, the British Ambassador to Luxembourg, John Marshall, hosted the traditional New Year's Reception of the British Chamber of Commerce (BCC) in Luxembourg.
Addressing circa 130 members, Joanna Denton, Chair of the British Chamber, wished everyone a happy new year and said that 2019 is looking to be an interesting year, with Brexit, etc. She thanked the Ambassador for hosting the event and his continued support of the chamber, plus the chamber's sponsors.
Ambassador Marshall wished everyone a very good year ahead. On Brexit, he briefly stated that things are expected to move quickly over the next few weeks, with the British parliament to vote on the agreement negotiated with the EU on Tuesday next week. He acknowledged that there are some members of Parliament who are unhappy with some details, including the Northern Ireland backstop, but the PM and government are working to deliver on the 2016 referendum result. He said that planning continues for exiting the EU without a deal and he said that he has been liaising with the Luxembourg authorities, including with Prime Minister Xavier Bettel, with the specific topics being addressed including negotiating to ensure the rights of British nationals in the Grand Duchy.
Joanna Denton referred to future British Chamber events, including the upcoming Business Forum and monthly business luncheons. She also referred to anticipated updates to the bcc.lu website foreseen to be implemented over the coming months. She also revealed that she is working on succession planning as she will be stepping down from her role in the BCC at the next AGM.
Joanne Denton proposed a toast to 2019, and the event continued with a networking reception.